Puppy Sanctuary
Rescue cute puppies! in addicting Puppy Sanctuary Game
System Requirements
OS: Windows XP/Vista/8
CPU: 1.6 GHz
RAM: 512 MB
DirectX: 8.1
Hard Drive: 48 MB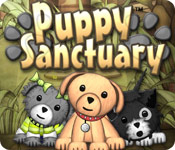 Puppy Sanctuary Game Description
Strange alien traps are popping up all over Puppy Island! Rescue the trapped puppies before the aliens have a chance to retrieve them! Keep your rescued pups safe, warm, and happy in your Puppy Sanctuary. Use collected gems to buy toys and decorations for different locations and search for food and firewood supplies within the ancient island ruins. Use your Match 3 talents to save all the adorable animals in this fun game! Care for your puppies, brush them, play ball with them, watch them play on rocket lifts, skateboards, trampolines and more. You can even grab them and plonk them in the bath to keep them clean!
Puppy Sanctuary full version features include:
Rescue cute puppies, each with their own story.
Play with your puppies to keep them happy.
Watch your puppies play with skates and rockets!
Relaxed, Timed and Tricky game modes.
Puppy Sanctuary Game Customer Reviews
Cute little Match 3. Loads fast, good powerups, and in an interesting move you can swap on a diagonal, which I have not seen in other games. Can play timed or not, and also at a harder level for those of us well experienced with match 3 games.

- by kittykids
I love this game. Yes, it appears to be kind of childish, and in some ways it is, but there's a part of me that still likes this kind of thing. I love rescuing all the puppies and reading about each one and then playing with them in the sanctuaries. That said, I also truly enjoy the match-3 game-play and the Bust a Move clone levels. The hidden object mini games are really easy, but sometimes you don't want a huge challenge in your games.

Like the main reviewer said, there isn't a big reward to unlock or anything, but what makes the game fun for me is collecting each and every puppy and buying all the things there are to buy. So fans of simulation and people who enjoy completing collections will be enthralled with this game. I actually bought a second copy for my ten-year old niece, whom I'm sure will enjoy it every bit as much as her 30-year old auntie. :)

- by sims2gamer
I would LOVE this M3 just for the diagonal play alone but also thrown in are the puppies with the interactive puppy toys. I love to watch them pounce on the little running mailman and play with the other toys. Oh, and I'm no child. Hint, if you pick up a puppy they'll kick out a tile for you and then parachute down. Also, there's a stray kitten in one of the sanctuaries. The M3 gets just hard enough starting at level 21 to keep you on your toes a bit. Very FUN game!

- by jkuci
If you've had a stressful day at work or the clothes washer broke down at home or the kids are fighting (again) or the husband/significant other unfairly criticizes you then, this game is perfect to sit with a cuppa in the evening and play (timed or untimed) a relaxing match-3 to save some very cute puppies.

- by rainice
Related Games
If you like Puppy Sanctuary game, you may also like...