PictoWords
Pictures + Letters + Your Quick Wit = PictoWords! in addicting PictoWords Game
System Requirements
OS: Windows 2000, Windows XP, Windows Vista
Memory: 256 MB
CPU: P3 800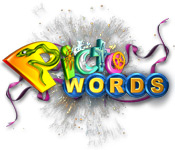 PictoWords Game Description
Pictures + Letters + Your Quick Wit = PictoWords! How quickly can you combine pictures and letters to create words? Each level offers fun pictures which you must blend with letters to fill out the word list. Solve them all to earn bonus points as you play though hundreds of exciting levels! See if you can earn even more points for finding the longest words, fastest solutions and staying away from hints! Enjoy hours of challenging word play with PictoWords!
PictoWords full version features include:
Combine Puzzles And Pictures!
Hundreds Of Exciting Levels!
Fun Bonus Rounds!
Hours Of Challenging Word Play!
PictoWords Game Customer Reviews
I really enjoyed this game. It was challenging and got my brain working. If you like words plays this is for you!

- by eerryberry
I really liked this game. It is a different way to use your mind. The key is to remember that it is based on spelling, and not sounds - that is the hardest to get over. It is challenging. Some downsides are that it recognizes first names and abbreviations (like Ted and EPA). Most games don't allow the use of first names/proper names and acronyms/abbreviations. So I also had to get used to this. There are some slang words too (like Cred). Bonus words are formed when you find a word that is not on the list - definitions are given for these words. Bonus level games are fun - picto phrases. Overall I really liked this game. I will consider purchasing it in the future. A great mental exercise.

- by scrpbkr
This is a great word game! I downloaded it with a plan to kill 10 minutes in between work and ended up playing for hours! In this game, you combine pictures with letters to make words. Once you get the hang of it, you'll find the puzzles will haunt you....and you'll be solving them in your head when you're not even playing. If you are into word games, this one is worth a test drive.

- by m_mcgilvray
Related Games
If you like PictoWords game, you may also like...