Plant Tycoon
Can you find the 6 Magic Plants of Isola? in addicting Plant Tycoon Game
System Requirements
OS: Windows 2000/XP/VISTA/7/8
DirectX: 7.0 or later
CPU: P700
RAM: 128 MB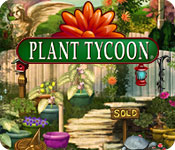 Plant Tycoon Game Description
Plant Tycoon is a gardening simulation game where you nurture plants and experiment with increasingly rare and valuable species. Breed and cross breed plants until you find the 6 Magic Plants of Isola and solve the genetic puzzle! Grow plants, organize and harvest seeds, monitor your plants' health and maturity, and protect your plants from dehydration and infestations. Sell some of your creations to fund further research and purchase upgrades and supplies. It's the perfect sim experience!
Plant Tycoon full version features include:
Find The 6 Magic Plants Of Isola!
Play In Real Time!
More Than 500 Different Species To Discover!
Collect Colorful And Rare Insects!
Plant Tycoon Game Customer Reviews
Plant Tycoon is a fantastic new tycoon sim game from the people who made the hit real time games Virtual Villagers and Fish Tycoon. Plant Tycoon is a real time simulation game where you grow virtual plants in a persistent world. Every time you turn Plant Tycoon on there are new surprises waiting for you. The gorgeous artwork in Plant Tycoon has detailed dynamically generated plants, the gameplay in Plant Tycoon is very unique and challenging and Plant Tycoon is great fun to play with lots of replayability. If you like Tycoon games, real time simulation and strategy games or love challenge in your games, then Plant Tycoon is the game for you!

- by zoomer
This game is the one. I've tried villagers 1&2, the food chains, salons and hotels, but nothing comes close to plant tycoon. It rally makes you attached to the game. I started to play it last week and I bought it right away. It was so exciting to play, especially when a pop up message tells you that you found a magic plant, so far, I've only raised 3 magic plants and I am out of money. I want to buy the soil upgrade from Isola, the gold one, for my special seeds. I'm just populating my popular plants and selling them for $67 to save money. I can't wait! Pros: Great soothing music, game play - 5 star, graphics is great, game time - not repetitive and boring like others. Cons: In the nursery where you sell your plants, the customers are very slow, and I just wish I can still sell plants even if I'm not in the nursery. But all in all, perfect game. This is my first time to give review to a game because I was really impressed with this game, and so to conclude my blabbering, I recommend it to everyone. Buy the game and play it now, then you'll know what I mean.

- by cherryprincessxvi
Plant Tycoon, Great time stealer. I simply love this game. It's much more fun than Fish Tycoon. I haven't found all the magic plants yet, allthough I've played allmost constantly for the past week or so. The time flies when you play this game. You can try to make a lot of money, try to discover all the different kinds of plants or try to discover the magic plants. If you're afraid to get hooked on this great time stealer, then don't download the trial!

- by Tiopi
Related Games
If you like Plant Tycoon game, you may also like...