Plumeboom: The First Chapter
Help Plumeboom save Orniland from evil! in addicting Plumeboom: The First Chapter Game
System Requirements
OS: Windows 2000, Windows XP, Windows Vista
Memory: 128 MB
DirectX: 8.1 or later
CPU: P800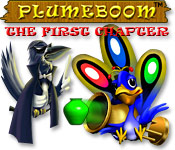 Plumeboom: The First Chapter Game Description
Evil villains, Crowbeak and Cornix, have taken over the peaceful town of Orniland. The villains have developed a delicious potion that will turn even the nicest person into a Warrior of Darkness. The only hope to restore its tranquility is to send the hero Plumeboom in to save the day. Help Plumeboom destroy the jugs of evil potion and rid the village of this wicked infestation!
Plumeboom: The First Chapter full version features include:
More Than 50 Colorful Levels To Solve!
Use Coins To Buy Power-Ups!
Select Different Wardrobes!
Two Playing Modes To Choose From!
Plumeboom: The First Chapter Game Customer Reviews
It's a unique puzzle game, thats why I like it. I like the music, and the graphics. But the game has one major disappointment because when you are game over you must start at the whole beginning of the game. Once I lost all my lives at level 8-5 and then I had to start at level 1-1 again! I think that is ridiculous because with almost all other games, if you loose all your lives you don't have to begin at level 1-1. For example, if you are playing Luxor 2 and you are playing level 8-5 and you lost all your lives you must begin at level 8-1, and not at level 1-1. Thats the only thing I hate about this game. But further I really liked the game, and I hope that when Plumeboom: The Second Chapter comes out, there won't be that big disappointment.

- by TopCat
Related Games
If you like Plumeboom: The First Chapter game, you may also like...