Princess Isabella: A Witch's Curse
Help Princess Isabella lift a curse! in addicting Princess Isabella: A Witch's Curse Game
System Requirements
OS: Windows XP/Vista
CPU: 800 Mhz
RAM: 256 MB
DirectX: 8.1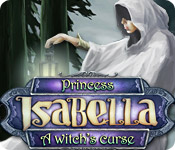 Princess Isabella: A Witch's Curse Game Description
Princess Isabella is all set to marry the love of her dreams, Prince Adam. After returning home from a trip, however, she finds that an evil curse has been placed on her castle by a mysterious witch. The curse has placed evil in every room, and turned everyone inside the castle into mirrors! Follow a fairy friend as you piece together the clues and save your friends and family in Princess Isabella: A Witch`s Curse, a gorgeous Hidden Object Adventure game!
Princess Isabella: A Witch's Curse full version features include:
Unique gameplay
Tricky puzzles
Defeat the evil witch!
Princess Isabella: A Witch's Curse Game Customer Reviews
I enjoyed this game, both times I went through it, needed some help, thank you Forum and the walkthrough. I ignored the fairy, almost never listen to the game, only play. I thought the mini games were very inventive and not hard to play at all. I did use the hint but I was distracted a lot, (sick husband, not the game). The scenes were beautiful, after you cleard them of evil. And I liked it that you can jump from room to room usig the map in the journal. Made it a lot easier to go back if you forgot something.

- by Pattyonputer
Delightful, challenging, user-friendly, fun! How much more can we ask? This is a really great addition to the HO genre. It goes far beyond any simple HO concept and incorporates wonderful "brain teaser" challenges throughout; not just in the mini-games. All the puzzles (min-games) can be skipped with no penalties, but it is a lot of fun to try solving before you use that option. The graphics are utterly gorgeous and there are so many built-in prompts that really help you figure out what you need to do, in many instances. Plenty of playing time and, I think, replay value. Hats off to the geniuses who designed this!

- by thistle809
Fun and challenging game. Excellent graphics. Love the non-linear adventure-style gameplay. I actually liked the fairy and her different abilities, but my computer was on mute. If she annoys you, it's fun to try to feed her to the venus fly trap. I also loved the variety of minigames and puzzles. I liked the marble popper at the end, I thought it was a fun twist. The game is a little buggy in places and on the short side - I finished it in just over 2 hours. Overall, I had so much fun playing the game - I hardly ever buy HOGs and I had to get this one!

- by jaylee1204
Related Games
If you like Princess Isabella: A Witch's Curse game, you may also like...