PuppetShow: Mystery of Joyville
Solve puzzles and uncover dark secrets. in addicting PuppetShow: Mystery of Joyville Game
System Requirements
OS: Windows XP/Vista
CPU: 1.0 GHz
RAM: 512 MB
DirectX: 8.0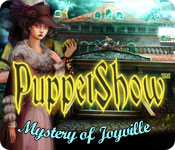 PuppetShow: Mystery of Joyville Game Description
The puppet show in Joyville was once a wondrous attraction until the great fire. Now, rusted gears and dark mysteries lay within strange machinations and disheveled puppets. A young boy, Simon, is the most recent in a long line of missing people. In PuppetShow: Mystery of Joyville, you are tasked with solving nefarious puzzles, finding hidden clues, and uncovering the dark secrets of a town that is anything but joyful.
PuppetShow: Mystery of Joyville full version features include:
Beautiful, immersive world
Find hidden clues to solve puzzles
Uncover a dark mystery!
PuppetShow: Mystery of Joyville Game Customer Reviews
Absolutely brilliant! The music is beautiful, the graphics are flawless, the storyline is certainly engaging, and the entire way the game functions is wonderful. You really get to use logic and think your way through the game; yet it is absolutely not a chore. There is no timer, so you can take the time to enjoy the amazingly beautiful graphics; the hint system is great, the mini-games are just challenging enough to be fun (They can be skipped, if you wish.), and there is a good amount of playing time. I am already anxious for the sequel! I think the reason a lot of people are complaining about the playing time, is that you are just not ready for the game to end; because you become very involved in the storyline. It is "spooky" enough to provide a tingle on one's spine, but not overly gruesome. (Not for children, though, I believe.) This is a very well thought out and designed game that includes intelligent dialogue (no voice acting, text only); which is certainly a welcome and refreshing change from many of the recent HOG releases.

- by thistle809
I wouldn't suggest this for kids - but I loved the mood! Amazingly well-done game. Great graphics. It is not extremely hard to find items, you won't need that many hints, because even if you are missing something, you know you'll be able to find it on yourself. Great combination of mini-games and hidden object, great story-line - definitely looking forward to the sequel!

- by gilowyn
I just want to say that PuppetShow is the first BFG I bought immediately after the demo ran out. Never done that before. I absolutely recommend it.

The puzzles are a little less Ravenhearst and a little more Resident Evil (HURR SQUARE PEG GOES IN SQUARE HOLE HURR) but the game is absolute quality all 'round. Gorgeous visuals, a few really good eerie moments, and a wonderful soundtrack. Nothing is going to leap out BOO! style and scare you, but the atmosphere is really well done.

Carol Ann and I did battle to decide which of us would review this one. Well, actually it was more of a case of me being too busy. But I still heartily endorse this game to anyone who's a fan of HOGs. And even if you only reluctantly flirt with the genre, like myself, PuppetShow is worth a look just for how well made it is.

- by Dora
Related Games
If you like PuppetShow: Mystery of Joyville game, you may also like...