Pure Hidden
Hidden worlds reveal unpredictable surprises! in addicting Pure Hidden Game
System Requirements
OS: Windows XP/Vista/7/8
Memory: 256 MB
DirectX: 9
CPU: P600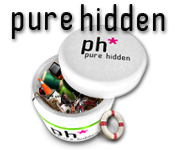 Pure Hidden Game Description
Open mysterious boxes containing hidden objects, mechanisms, puzzles, logic and manipulation games, and a series of interactive surprises! Filled with original and imaginative artwork, there are over 1000 objects to discover as you explore this peculiar world. Unlock beautiful wallpaper images as you dive deep into this dream-state adventure!
Pure Hidden full version features include:
Hidden Worlds Reveal Unpredictable Surprises!
Unlock Beautiful Images!
Over 1000 Objects To Find!
Packed With Interesting Mini Games!
Pure Hidden Game Customer Reviews
I was playing this game 2 minutes back when it is expired on my 60 minutes. It was great fun, one of the few games that I want to buy. including that the bubbles act like instruments, decorating your own bathroom and some drawing.

- by kissnot4u
This is the type if game, as has been said already you either love it or just cannot wait to delete from your computer. I love the game, the graphics are unbelievable, the games are great and the variety is awesome. Each mini game, one that is not a hog, always is different and you never know what to expect when the puzzle is solved. As stated on another post on one hog game they have the shadow of a person just walking across the scene, either a man or a woman. I am sorry more people are not enjoying the game because other developers out there could take a lesson on graphics and the idea of expecting the unexpected. No problem as far as glitches go and the game runs beautifully on my Vista. A real change of pace.

- by EIEIO
Usually the seek and find games get monotonous, this one was suprisingly interesting and fun on many levels. the Graphics are cute and the items are so cleverly hidden that you dont see them even when they take up half the screen. I recommend this game for seek and find fans who like to mix it up a little...

- by katyboom
Related Games
If you like Pure Hidden game, you may also like...