Puzzle Quest
An epic match 3 puzzle challenge! in addicting Puzzle Quest Game
System Requirements
OS: Windows XP/Vista/7/8
Memory: 256 MB
DirectX: 9.0c or later
CPU: 1.0 GHz
Hard Drive: 154 MB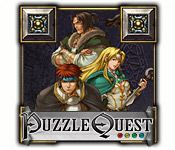 Puzzle Quest Game Description
Puzzle Quest: Challenge of the Warlords delivers classic puzzle-game action backed with an epic story of good vs. evil. Build your empire as you capture cities, build castles and gain a party of companions that will aid you in battle. Match skull tiles to inflict damage on other players or use your matches to earn money, experience and manna for spells. You can use your new found wealth to buy helms, weapons, armor and more! Puzzle Quest...it's like nothing you have played before!
Puzzle Quest full version features include:
Capture Cities, Build Castles And Fight Battles!
More Than 150 Challenging Quests!
Buy Helms, Weapons, Armor And More!
Match Skull Tiles To Inflict Damage!
Puzzle Quest Game Customer Reviews
Puzzle quest is an amazing game for the hardcore or casual crowd. In this game you take the role of an unnamed hero which is either a knight, mage, fighter, or bowman. The object of the game is to match 3 different gems (ie.bejeweled) which isn't very complicated. The real strategy is to match which gems? Should you go straight for the kill or build up your mana to use skills to defeat your opponent? This wonderful blend of strategy with easy puzzle elements makes this game a wonderful buy for anybody. I highly recommend this game to anyone who enjoys puzzle games or RPG's

- by kelsey tiamfook
This game is a fantasy rpg fused with a classic puzzle type game, I give it 2 thumbs up!!!

- by Cole Kooistra
I loved every minute of this game. There was nothing bad whatsoever as far as I'm concerned. I love the idea of using spells. It's an ingenious combination of classic turn based rpgs with jewel quest. This is not only a good, fun game but it's enjoyable for all ages. This game is well worth the money and i would pay a lot more for this game. I rate this game a 5 out of 5.

- by Brook Stefanou
Related Games
If you like Puzzle Quest game, you may also like...