Rainbow Web 3
Untangle the web and save Rainbow Village! in addicting Rainbow Web 3 Game
System Requirements
OS: Windows XP/Vista
CPU: 1.0 GHz
RAM: 512 MB
DirectX: 7.0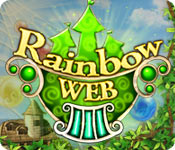 Rainbow Web 3 Game Description
The dark Sorcerer Spider has risen to power once again, and you are the only one who can stop him! This time the wicked wizard has taken over Rainbow Village. The once cheerful place is desolate, and the people are desperately begging for someone to save them. Your mission is to break the curse, untangle the web, and bring joy and color back to the villagers in this exciting Match 3 game!
Rainbow Web 3 full version features include:
11 locations and 110 levels
Shifting web patterns to bring greater variety to the game
Sliding puzzle and hidden object mini-games
Captivating story line, beautiful artwork, and a wonderful sound track
Hours of fun and enormous enjoyment for the whole family
Rainbow Web 3 Game Customer Reviews
I thought the increasing number of items to buy was interesting.The hidden item games at the end of each level was different from all the other web games. I would recommend it to anyone who likes match three games.

- by dingonic
Rainbow Web 3 is another fun romp through the fantasyland of castles and spiders. A variation on match 3, Rainbow Web is about a spider that has enchanted an ancient land. The first two installments of this game are a must have if you are a match 3 fan. The game also has a few HOGs thrown in for good measure, beautiful graphics, and soothing music. This is one of those replayable games that are great for a day when you need peace and just want something good to play. The harpsichord music is renaissance. In this third installment from Sugar Games, the evil spider is back and this time he's enchanted the village. Your job is to free and restore each building by solving words. Rather than a conventional match 3, these letters are in colored balls that are in different spiderwebs. They run from very easy to mildly hard. As you complete each building, you invade the spider's lair and add more light.

I bought this right away as I have the other two, and I am still enjoying it. It's a long play that has definate replay value.

- by moonwitch
This game is EXTREMELY addictive! I have both Rainbow Web 1 & 2, & only "test drove" this new version before purchasing just to make sure it would run fine on my 6-year-old system. It's tough to start playing the game because you don't want to stop. I have played it for several hours straight, extending past 2:30am, with my mouse hand one big cramp! It's more than worth it! Not being under the gun with a timer option was unusual, but makes the game that much more relaxing (& harder to stop playing)! Somewhat slow loading & transition between levels on occasion, but the graphics are awesome & the puzzles original, challenging, & an excellent workout for the mind!

- by JudyCS
I agree...best of the 3 Rainbow Web...would have been all 5 stars except cursor was a bit floaty. Held my interest...liked the building of the town aspect. Nice, relaxing game. I can't give an accurate rating for Sound...I'm deaf. I prefer the Match 3 games that include building, designing rooms, etc... just matching can become boring. Another good one for anyone looking to design or build is Geisha, Secret Garden

- by RKate
Related Games
If you like Rainbow Web 3 game, you may also like...