Heroes of Hellas 2: Olympia
Match-three gameplay meets city-building fun! in addicting Heroes of Hellas 2: Olympia Game
System Requirements
OS: Windows XP/Vista
Memory: 256 MB
DirectX: 8 or better
CPU: 600 MHz
Video: 32 MB graphics card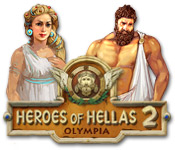 Heroes of Hellas 2: Olympia Game Description
Build a city from the ashes of a fallen civilization and rule your people with wisdom and justice in Heroes of Hellas 2: Olympia! A mix of addictive match-three gameplay and city building fun, Heroes of Hellas 2 challenges you to drag your mouse across chains of identical items to remove obstacles, activate bonus items and collect valuable objects. Between levels, you can play one of eight mini-games and spend the gold you earn on upgrades for your city!
Heroes of Hellas 2: Olympia full version features include:
Over 90 Levels!
Eight Mini-Games!
Four Game Modes!
Three Difficulty Settings!
Heroes of Hellas 2: Olympia Game Customer Reviews
This game is brilliant. You can match 3 and gain points and start building your own city. You build up points and play mini games that relay heavily on Greek myths and makes it very nice to look at. You get to engage the power of various gods so that they help you when you run out of time. Very inventive, lots of changing backgrounds and pleasant music. It is never boring and kept me playing just to see what kind of match 3 was next.

- by Moabit
I really like this game. It's a bit like cradle of rome and it includes minigames. You can play in three modes, easy, medium, and hard. I played the easy just to get used to it, and while it was still easy there was still a challenge to it. Can't wait to try the medium and hard. Oh yeah, I'm buying this one.

- by breandan
I love this game. I purchased HOH1 several years agao and still enjoy pplaying it as well. Great game, graphics, sound and gameplay is off the charts. Excellent game, a must purchase to add to my collection. Fun to build the city with the cash earned, love to click on the people and learn who they are. Excellent, fun and entertaining. My trial period was over in a flash. I had to check my earned opals to be sure I played for the full 60 minutes.

- by lookforit
Related Games
If you like Heroes of Hellas 2: Olympia game, you may also like...