Mystery Case Files: Prime Suspects
Let the super-sleuthing begin in this sequel to the MCF smash hit series! in addicting Mystery Case Files: Prime Suspects Game
System Requirements
OS: Windows 98/ME/2000/XP/Vista
Memory: 64 MB
CPU: P3 500;Network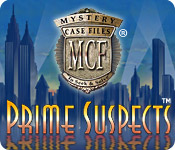 Mystery Case Files: Prime Suspects Game Description
Let the super-sleuthing begin in this sequel to the Mystery Case Files smash hit series! The Queen's Hope Diamond has been stolen! It's up to you to search for clues, find the offending culprit, and recover the stolen gem. Expand your investigations through the game's 29 unique locations by finding items that will unlock subsequent levels. Thousands of clues are cleverly hidden within the beautiful illustrations, creating a new game experience each time you step into this visual masterpiece!
Mystery Case Files: Prime Suspects full version features include:
Thousands Of Clues To Discover!
20 New Characters And Levels
X-ray Vision And Flashlight Rooms
30 Lush Environments To Explore!
Mystery Case Files: Prime Suspects Game Customer Reviews
This game is my favourite. I like the puzzle at the end of each level. THe puzzles can be a "find-a-match" or find hidden word, or just tile puzzle. After Ravenhearst and Huntsville, the find hidden object is getting too easy, and a bit boring, but the level puzzle is what makes this game different and fresh.

- by AniseK
This game is very enjoyable. I get so sick of of all the war games and killing games. I am a mom who likes to play PC games. I get burnt out on the card games. So I want to play something different. All of these games are very enjoyable.

- by Sandra M. Shultz
I played this game over a girlfriends place and I just absolutely loved it. I think its AWESOME. I had looked everywhere for the game to buy it. Game traders, EB Games, computer stores, but no shop has it. I hope i win the two versions as i cannot afford to buy it right now. Even my 11 year old son loves it. My neighbor even had a go and loves Prime suspect,titanic game and the Mystery files unlocked. All awesome and great fun and very challenging. Love it, Love it, Love it!!!

- by michelle vedredi
Related Games
If you like Mystery Case Files: Prime Suspects game, you may also like...