Rush for Gold: Alaska
Take part in the famous "Rush for Gold" in Alaska! in addicting Rush for Gold: Alaska Game
System Requirements
OS: Windows XP/Windows Vista/Windows 7/Windows 8
CPU: 1.0 GHz
RAM: 512 MB
DirectX: 9.0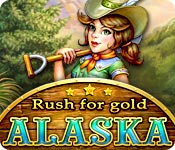 Rush for Gold: Alaska Game Description
Who says the time of the great gold prospectors has passed?! You have an opportunity to be one yourself! Explore locations for gold and other useful resources, protect your workers from wild animals and robbers and build the town of your dreams in Rush for Gold: Alaska!
Rush for Gold: Alaska full version features include:
Two game modes - time-limited and free play.
Exciting, dynamic gameplay.
Lots of buildings and units to interact with.
40 striking locations and four seasons.
Rush for Gold: Alaska Game Customer Reviews
The beauty of this game is that you get so much replay value from it as you hone your technique and strive for three stars on all 40 levels. The more stars you gather the more you can purchase to improve the settlers town. The music, sounds and varying pace of the game work together perfectly to help you direct the workers to achieve their tasks. The colour and variety of each level prevents it from being repetitive. Look out for the wolves, bears and gangsters which add a little extra challenge and fun to each level. The adorable little folk which run around in this game will make you laugh but they give a feel good factor to this game when they all dance, clap and cheer when you complete a goal. I also liked the speed up, slow down and extra resources buttons which you will have to use to get three stars on all levels.

- by josiejay
You pick whether to play against the clock or not! so, choose relaxed or time mode. Rush for Gold Alaska is both Time management and problem solving---along with a pleasant atmosphere. Music is not too distracting. It is interesting in that it is similar to other building games, but it has its own distractions.

- by 31019253
Absolutely LOVED this game. Its a TM with a twist. Made it through a few levels so far and really enjoyed playing this one. The graphics, sound, everything is worth playing the trial as I did an then decided to add this one to my collection of TM games. The levels are challenging the rewards are fantastic, the game is absolutely fun and enjoyable!

- by Chicago00034
This is a truly great TM game. I wasn't sure how much I would like it when I started playing since it doesn't have all the bells and whistles graphically that we have become accustomed to with the new releases. But it doesn't detract from the game at all. It has both a timed and relaxed mode which will make many of you happy. Lots of levels. It can take some time if you are gold crazy like me and want all the gold stars. I hope they put in achievements if they do a sequel to this one. I think it would make a great series. Good Luck and Have Fun!

- by dtw210992
When I learned that this game was from one of my favorite developers, Rainbow Games, I just had to try it. And I'm sure glad I did! It's visually beautiful, hilarious, and versatile. One can play it either timed or relaxed. It's also highly replayable, making it of even more value for the money. I played through it in "relaxed" mode, and I made up challenges for myself, seeing how I can catch the fewest fish, cut down the fewest trees (they grow back!), etc. I definitely recommend this game to anyone who would like a fun, relaxing, and enjoyable time.

- by Sherry__Rose
Related Games
If you like Rush for Gold: Alaska game, you may also like...