Demigods
Rule the world with the powers of gods! in addicting Demigods Game
System Requirements
OS: Windows XP/Windows Vista/Windows 7/Windows 8
CPU: 1.6 GHz
RAM: 1024 MB
DirectX: 9.0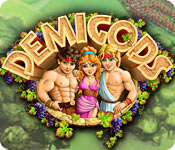 Demigods Game Description
The titans who hold the sky are about to drop it. A trio of heroes-beautiful and clever Leada, mighty Protus and nimble Adoris-embark on a quest to help the giants and save the earth. In their journey, they will visit amazing landmarks of the ancient world, encounter beautiful mythical creatures, and make friends with gods and epic heroes. Take control of your heroes' special abilities and use the power of gods to boost your progress through levels in this stunning time-management adventure!
Demigods full version features include:
Play as three characters with unique powers!
Meet dozens of mythical creatures and characters!
Dive into a world of Greek legends!
meet dozens of mythical creatures and other famous characters
Demigods Game Customer Reviews
I really enjoy playing this game. Had to buy right away. It is funny, good graphics and lots to do. You definitely have to plan ahead because some roads go through various tunnels that are not so obvious to find at first.

You build altars, sawmills, sheep farms etc.. Throughout the game you need to catch the golden sheep once they appear. Be fast though, since they don't stay long. There are giants, soldiers with ramrods etc., watch them, there are really cute animations along the way.

You have power ups every so often, such as speed , lightning. I'm having fun playing this one, it is not as easy as it looks, strategy is oh so needed.

- by gryhndlvr
Great TM game. Awesome graphics, thumbs up for the animation. Like the challenges of where to go next because sometimes the paths are hidden. It froze once or twice and had to exit and come back. No need to uninstall and reinstall though. I think the graphics that caused some of the players' game freeze or being choppy. Need lots of RAM I guess.

- by tessabraden
i got this game at another site last week and loved it. the 3d graphics are the best i've seen, puts mkftp4 to shame. the story line is unique, the characters all look different and are large enough to see facial expressions, they are male and female and one even gets kidnapped by a monster. you can cue actions, play untimed which i love, you have to figure out what to do for each level, each level looks different from the one beore. i hope they make a sequel, i love this game.

- by karema
Related Games
If you like Demigods game, you may also like...