Sky Taxi 2: Storm 2012
Save the world in Sky Taxi 2! in addicting Sky Taxi 2: Storm 2012 Game
System Requirements
OS: Windows XP/Vista
CPU: 800 Mhz
RAM: 256 MB
DirectX: 8.0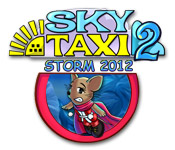 Sky Taxi 2: Storm 2012 Game Description
The president wants you to clean up the pollution that's causing insane weather around the world! The only problem: avoiding the rogue robots that are attempting to exterminate anyone who comes near them! Save the world in Sky Taxi 2, a fun and fast-paced Action & Arcade game! Get ready for Colorful graphics, bodacious bonuses, awesome minigames, and much more!
Sky Taxi 2: Storm 2012 full version features include:
Gripping arcade game play
275 exciting levels to play
Challenging mini-games
Great of bonuses and secrets
Lots of enemies and obstacles
Sky Taxi 2: Storm 2012 Game Customer Reviews
I very much liked game. The excellent drawing, beautiful music and very interesting plot in game. For the present game has not passed everything, but I think the further you pass the it to be pleasant more. I recommend all this interesting and colourful game.

- by Dimka
Adorable game! Really cute and that little mouse - I adore him :)

There were so many things about this game that made me smile - unexpected surprises that would make me laugh. A sweet game that is just good fun. When I read the reviews, I figured I was maybe going to have trouble with the controllers (being that I have none!) other than my keyboard and mouse, but it is so easy! You can move your mouse left or right to move your character left or right. To jump, left click. To jump even higher, left click while you are already in the midst of jumping. To talk to people, open doors, or treasure chests, right click on them. You can even open treasure chests by jumping directly on them. There are only a few enemies, they are easily dispatched by jumping on them also. Game is really cute - the demo hour flew by ... and I don't even PLAY arcade games ! I got to about level 37 or 38 or so and was actually disappointed when the demo ended. I think I will definitely be purchasing this one. Thumbs up!

- by Diskette66
Related Games
If you like Sky Taxi 2: Storm 2012 game, you may also like...