Professor Fizzwizzle
Puzzle your way past the Rage-bots to help the Professor! in addicting Professor Fizzwizzle Game
System Requirements
OS: Windows 2000/XP/Vista
Memory: 64 MB
CPU: P 200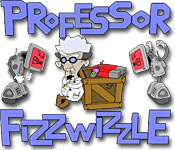 Professor Fizzwizzle Game Description
Professor Fizzwizzle needs your help! His once-friendly Friend-Bots have gone in to rage mode, and have thrown him out of his lab! Can you puzzle your way past the Rage-Bots and help Professor Fizzwizzle set things right? He's counting on you!
Professor Fizzwizzle full version features include:
Exciting Unlockable Bonuses!
Over 230 Levels And 4 Game Modes
Appeals To Gamers Of All Ages
Make Your Own Levels To Play!
Professor Fizzwizzle Game Customer Reviews
This game is great. My little sister loves it! She maxed out the demo version I downloaded a long time ago. Hehe! The graphics are phenomenal! It's so cute to look at! Not to mention it's very neat. The sound is okay. It's not outstanding, so to speak, because it's forgettable. I can't even exactly remember what it sounds like anymore. Hehe.. The gameplay is great! It's very kid-friendly yet still pretty challenging. I can't really say much about this game other than it's a neatly-built game and it's fun for everyone! Kids and adults alike!

- by deano47wn
this game is similar to carl the cave man. its quite fun but the most annoying thing is that you cant jump. graphics could be better and sound is good

- by kasitsak
This game is exceptional - not only because it's great, but it's also rare (in a positive manner) - you won't find many like this one on the net, so make sure you start downloading your free trial version while you read this review ... My recommendation: buy it. You can't go wrong.

- by Anawiki Blog
Related Games
If you like Professor Fizzwizzle game, you may also like...