Slingo Quest Egypt
Slingo heads to Egypt, with all-new power-ups and modes! in addicting Slingo Quest Egypt Game
System Requirements
OS: Windows XP/Vista
CPU: 600 Mhz
RAM: 128 MB
DirectX: 7.0
* Hard Drive: 90 MB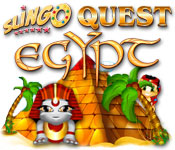 Slingo Quest Egypt Game Description
Slingo Quest Egypt is the latest adventure in the award-winning Slingo Quest series. It features a brand newoh no, wait, that darn Devil just stole the best level in the game! It's up to you to join the Slingo Cherubs on an exciting quest to steal it back. Along the way you'll meet a number of new Slingo Friends, each with a different Slingtastic power to share. Discover fun new power-ups! Uncover innovative new game modes! Beat the Devil at his own new mini-games! Can your team journey through the fabulous lands of Egypt, and win the Joker's game back from the Devil?
Slingo Quest Egypt full version features include:
Brand New Powerups!
Brand New Mini-games!
Great Characters And Story!
Multiple Top Ten Lists!
Advanced Help System!
Slingo Quest Egypt Game Customer Reviews
I just played the demo of this game and I loved it! I am one Slingo fan that is glad Funkitron has gone with another entry in the Slingo Quest series rather than a followup to Slingo Mystery. Not that I didn't enjoy Slingo Mystery well enough - but I played it through once, and once was enough for me. That was it. That kind of is the way with adventure puzzles. Now a game like Slingo Quest, Slingo Hawaii, or Slingo Egypt - you can have fun playing it over and over again for years. Well worth buying if you have fun with this type of game since it is so replayable. Bravo!

- by ratgirlagogo
People who liked Slingo Mystery as a hidden object adventure will not like this, Slingo fans will love it, I promise! We're off to Egypt this time and there is the usual mix of familiar stuff and new bonuses, challenges and, as always, lovely bright graphics. I play my Slingo games (and I own them all except Slingo Mystery) over and over again so they are great value for money, especially if you wait until Funkitron farm it out to other sites such as Big Fish where it will be up for $6.99. If you have never played Slingo, give the demo a try, it seems to be a game people either love or hate. I find it so relaxing and the chance element means it is always different, there are loads of challenges to complete and you will play this game for many many hours just trying to complete all the challenges and get all the stars.

- by nikkihayes
Now this game is truley addictive, Love the graphics and the adventure game play and how they talk with those squeeks is kinda of cute. You defintely lose hours playing this game. Rate this game a 10. Fun and addicting. I also like how the slingo games change. that 40 card wasn't easy. lol

- by Manhater34
Related Games
If you like Slingo Quest Egypt game, you may also like...