Clockwork Crokinole
Position your discs to gain the most points possible! in addicting Clockwork Crokinole Game
System Requirements
OS: Windows XP/Windows Vista/Windows 7
CPU: 1.0 GHz
RAM: 1024 MB
DirectX: 9.0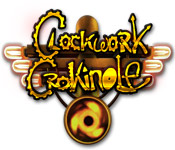 Clockwork Crokinole Game Description
Enjoy this classic tabletop game of Crokinole redesigned as an exciting new casual game experience in Clockwork Crokinole! Position your discs on the board to maximize your points while removing your opponent's discs in the process. Achieve a high score in the progressively difficult arcade mode or play classic mode and be the first to reach the target score!
Clockwork Crokinole full version features include:
Incredible gameplay
Un-lockable strategy rewards
2 exciting modes of play!
Clockwork Crokinole Game Customer Reviews
The game is refreshingly different and challenging. There arent a lot of rules and the learning curve isnt steep. After a couple of practice matches u begin to get the hang of things and it wont be long before u can win ur first game. The music and the theme are also really good and it fills u up with a nostalgic sort of feeling. This game is a must try!

- by thebigfreak
Loved this game, it made a nice change from TM or HO. It reminded me of playing marbles in my youth (many years ago). You could also compare it to boules. The idea is to get your disc in the scoring zone and prevent other players from getting theirs in (sounds a lot simpler than it is) Once your disc is in the scoring zone, your opponent has to knock your disc first before being allowed to score or vice versa if your opponent played first. There are tactics involved in this one but it's fairly easy to pick up and aiming and shooting can be easy or hard, you choose. The level of challenge is pretty good, not too easy and not too hard, just enough to keep you on your toes. You definitely need to try this one as my description just doesn't do it justice. Graphics are great too. Enjoy!!!

- by jayellegee
This game should be fun for those who have enjoyed playing crokinole for real in the past. I used to play this when I was much younger, when you had to flick the disks with your finger. I must say the computer version is much easier on the fingernails! And much easier to aim, at least on the easy setting. Found it almost too easy to win, but did not get a chance to try the more challenging setting before my trial time was up. All in all a very good computer version of a classic board game.

- by thudphilo
Related Games
If you like Clockwork Crokinole game, you may also like...