Slingo Deluxe
Like SLOTS? Like BINGO? You'll love SLINGO! in addicting Slingo Deluxe Game
System Requirements
OS: Windows 2000/XP/Vista
Memory: 64MB
DirectX: 7.0
Display: 16MB Video Card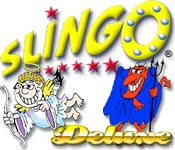 Slingo Deluxe Game Description
If you like Slots & you like Bingo, you'll love Slingo Deluxe. Accumulate the highest number of points by trying to cover all the numbers on your game card in 20 spins or less. Use the Jokers to master the board & watch out for the devil because he'll steal your points. The Slingo experience appeals to anyone who enjoys playing games, winning prizes and having fun.
Slingo Deluxe full version features include:
It's Bingo and Slots combined.
Classic, Mixed Matrix, & Patterns game modes.
Enhanced Graphics and Sounds.
Easy to learn and deceptively addictive.
Slingo Deluxe Game Customer Reviews
Hmmm. What can I say about Slingo Deluxe? It's a different kind of game that is Bingo style, but makes you think and is challenging. The graphics are simple, but you don't need to have a wow factor in this area, as it would detract from the game play. Different game modes that provide fun and doesn't get boring. I do come back to play this game once in a while when I need a kick-in-the-pants kinda game that reminds me that ordinary Bingo doesn't cut it any more (unless it will win me a million dollars, but I'm sure that won't happen in my lifetime!). Great game, great replay!

- by DarkChylde
Slingo is a great game, my favorite as a matter of fact. Very addicting, keeps your attention, Slingo never gets boring. Slingo is a game for the whole family. Slingo uses numbers which can help children to learn while they play. Slingo is a player friendly game. I recommend everyone download and play Slingo, you will be glad you did. If you have kids they will love you for downloading it, you will have to make a sign in sheet to reserve a time to play.

- by Lori G.
Related Games
If you like Slingo Deluxe game, you may also like...