Soccer Cup Solitaire
Shoot for the win with Soccer Cup Solitaire! in addicting Soccer Cup Solitaire Game
System Requirements
PC: Windows Me, XP, Vista, 7
256 MB RAM
1 GHz or faster processor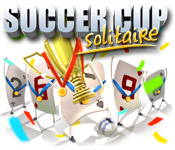 Soccer Cup Solitaire Game Description
The world's favorite sport meets the world's favorite pastime. Guide your team to victory with fast-paced card-matching action. Chain together passing combos as you look to score the winning goal and succeed in this fun Card game. Are you ready to square off against the likes of Brazil, England, Spain and the USA on your quest for the Cup? Then pass some time and shoot for the win with Soccer Cup Solitaire!
Soccer Cup Solitaire full version features include:
Exciting solitaire action with a soccer theme
Take control of your choice of teams in an international-style tournament
Find bonus cards to play fun mini-games
Soccer Cup Solitaire Game Customer Reviews
Oh my, what a coincidence. We have a soccer game that is great for children and adults. Better yet, we have the FIFA South Africa world soccer game going on now. i absolutely love it even though I'm not a solitaire fan.

- by ppineapple
I really loved this game, not just because I love playing Solitare but because it is actually more fun than other Solitare games that I have come across. It was an awesome idea to have a soccer/football game come out at the same time that the World Cup is still going on. One thing that I also loved was the game's music. I usually turn off any game that I play's music and play my own, but this time I played it and loved it. All and all this was truly a fun game to play.

- by DucTapeLuv
Soccer Cup Solitaire mixes two popular games to create a clever and addictive experience. Accessible for all ages. It's all been cleverly thought out and really gives the game a lot of personality. There's even a commentator who will give feedback every now and again on how the match is progressing, shouting and raving every time a goal is scored.

- by GameZebo
Related Games
If you like Soccer Cup Solitaire game, you may also like...