Spiderz
Help Agatha unravel elaborate webs! in addicting Spiderz Game
System Requirements
OS: Windows 2000/XP/VISTA
Memory: 128 MB
CPU: P600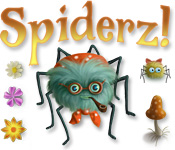 Spiderz Game Description
Help Agatha the Grandma Spider unravel webs made by her naughty grandchildren! Find out how cute little spiders can be and what elaborate webs they can make! Explore different techniques to untangle the threads, meet with charming inhabitants of the magic forest and enjoy its special ambiance! All kids love romping around, and even if these "kids" are cute little spiders, they can still cause an unbelievable mess!
Spiderz full version features include:
Untangle Elaborate Webs!
A Relaxing Web Puzzle Game!
Meet Charming Magical Forest Creatures!
Challenging Puzzle Fun!
Spiderz Game Customer Reviews
Spiderz is perfect for children whereas they examine their brain. Fun & Challenge game.. It is excellent.. I loved it and I played some levels, It easy in beginning and afterwards become hard. Nice game to kid and family. Five stars deserve it.

- by hajjrabih
I loved this trial I want to buy this one! The game play looks easy at first but it does become challenging! I loved the little spiders they are very cute. I think the challenge factor of this game is trying to better your score and use less moves....A good game for when you want to unwind and relax!

- by MELABEE74
Related Games
If you like Spiderz game, you may also like...