Super Granny 5
Super Granny is back for more action! in addicting Super Granny 5 Game
System Requirements
OS: Windows XP/Vista
CPU: 1.0 GHz
RAM: 512 MB
DirectX: 9.0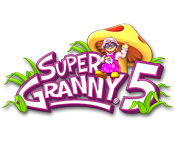 Super Granny 5 Game Description
Super Granny is back and ready for action in Super Granny 5, her latest action-packed adventure! When Dr. Meow zaps Super Granny with a powerful shrink-ray, she must journey into the dangerous wilderness of her backyard, battle all-new gran-eating enemies and rescue her precious kitties from unlikely peril! Create your own levels and share them with friends in this fun and fast-paced Action/Arcade game.
Super Granny 5 full version features include:
New locations to explore
High resolution art
Survive the backyard!
Super Granny 5 Game Customer Reviews
That's right, Super Granny is back! Kittens need to be rescued, and Granny is ready for the challenge. This time, Granny has been shrunk. Her main enemies are bugs, such as the snail that leaves a trail of slime that Granny has trouble walking on, and the fly that knocks Granny out of the air. The levels are similar to those in the previous games, and the power-ups and objects are also similar, but the graphics have improved a bit and are nicer. Fans of Super Granny will be happy with this game!

- by LucyS
Awesome and then some. Over 130 levels and 5 worlds. Excellent game all the way around. Love the concept, and it is so much fun. You can't go wrong purchasing a SG game. Hourse of fun. Purchase the game and enjoy.

- by lookforit
Super Granny is my all-time favorite series, and this new entry does not disappoint. Granny is back and better than ever! Help Granny save her kitties by collecting them and depositing them safely through the MEOW arch, as she defends them against some adorably rotten cartoon baddies. My favorites are the Running Water, which is a drop of water that chases her as it makes gurgling noises, and the Rotten Carrot. The graphics are cute, colorful, and fun to look at. The sound is great. I love the updated music, and Granny's quaint sayings always make me laugh out loud! The gameplay is very simple to start, similar to Lode Runner, or Panda Craze. As the game progresses, it gets more challenging, as some levels have no enemies, and you have to use your brain to find the solution. I bought this game, and I'm starting my fourth round through it. There are over 100 levels, 5 worlds, and you really get your money's worth. Five stars!

- by ShayeraHol
Related Games
If you like Super Granny 5 game, you may also like...