The Tuttles: Madcap Misadventures
Take a comical road trip to the Alamo! in addicting The Tuttles: Madcap Misadventures Game
System Requirements
OS: Windows 98/ME/2000/XP/Vista
CPU: 600 Mhz
RAM: 128 MB
DirectX: 8.1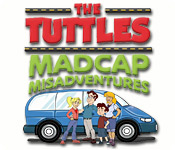 The Tuttles: Madcap Misadventures Game Description
Starlight Starbright Children's Foundation is pleased to announce The Tuttles: Madcap Misadventures, a first-of-its-kind fundraising initiative! The modern Tuttle family embarks on a family vacation to the Alamo. Beautifully detailed art&sidescrolling action add to the fun. Comic book style cut scenes are brought to life by the voice-over talents of Hollywood's biggest names. Get caught up in this hilarious arcade adventure that pairs having a good time with doing good!
The Tuttles: Madcap Misadventures full version features include:
Original comedic script.
Lushly rendered settings.
Famous voice-over talents!
The Tuttles: Madcap Misadventures Game Customer Reviews
The game is alot like super mario brothers. The graphics are very good. The gameplay controls are simple and take a little bit of dexerity much like super mario. The storyline is silly and entertaining. In all it is a nice game to play.

- by SavageMeow
Wow,what a great game and the idea that the money goes to a great Foundation is wonderful! I'm not really into action games,but that one I could play any time.It has wonderful graphics,super animations.If you like action games and got your jumps down thats the game for you and to all that it has a great Story that comes with it.

- by hexe91
I have completly fallen in love with this game!!! It is prolly one of the best games I have played here on Reflexive and believe me I have played a few. Other than one lil issue with almost the last level on the first round, I have had no problems! Its a great game and I am on the second round with the game and I love the fact that there are more levels to play. It is one great game!!!!

- by PeachyShell
Related Games
If you like The Tuttles: Madcap Misadventures game, you may also like...