The Joy of Farming
Grow mouthwatering vegetables! in addicting The Joy of Farming Game
System Requirements
OS: Windows XP/Vista
CPU: 1.4 GHz
RAM: 512 MB
DirectX: 8.0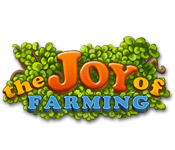 The Joy of Farming Game Description
Help Joy turn a shabby homestead into the Farm of the Year by growing a variety of mouthwatering vegetables and turning them into the products her customers want. Equip your farm with ropes and ladders so your workers can fetch water and take their harvest to the storehouse in this unique Time Management game. As you catch your breath between stages, upgrade your farm and purchase the plans to build ever-more elaborate production facilities and experience The Joy of Farming!
The Joy of Farming full version features include:
14 trophies, 11 production buildings
Learn-as-you-play tutorial
Gripping gameplay
Over two dozen characters, more than 65 levels
Grow mouthwatering vegetables!
The Joy of Farming Game Customer Reviews
This is an excellent game that is different from all others I have played. Basically you need to sell a specific amount of different goods to pass the level. But how you get the goods is different, there is a farmer that can grow things, then workers that run machines to make them into something else. Alot of freedom in what to upgrade and when to upgrade it, which is where a lot of the strategy comes in. Lots of strategy needed if you are looking to get gold on the levels (some are REALLY hard to accomplish! but it is possible as I have done it). But if you like to take your time that's fine too, you can take as long as you want to finish the levels. Love the music, story line is pretty loose. If you like strategy games, you'll like this game.

- by ktosch
Love this game. Wondering if there is going to be a second one

- by Laura
This is a unique time management game. I've played every one I have ever come across, and this one is actually somewhat different. It uses ladders and ropes to make things a bit more challenging, especially when the farming plot, water tub, and stockroom are all on different levels! Yes, the first few levels are pretty basic and easy to get the gold on, but it quickly develops into a game where you must click fast in some areas (the bandits), but must plan properly in others (which veggies to grow/process first) in order to have time to get it all done to get the gold! Going back to earlier levels after you've gotten upgrades makes getting that gold easier sometimes, but it's still a challenge.

- by Bellynn
Related Games
If you like The Joy of Farming game, you may also like...