The Scruffs
One family's junk is another's hidden treasure! in addicting The Scruffs Game
System Requirements
OS: Windows 2000/XP/Vista
Memory: 128 MB
CPU: P600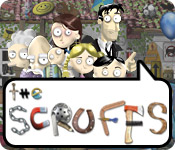 The Scruffs Game Description
The Scruffs need your help to save their beloved family home from being sold! Grandpa Scruff has a solution - a scavenger hunt to recover his valuable artifacts. But in a surprising twist, Grandpa Scruff reveals that he's been hiding something else - a shocking family secret! Help the Scruffs uncover the secret that will change their lives forever by finding lost items and putting together the clues they need! The Scruffs - laugh at their witty family banter and fall in love with their charm!
The Scruffs full version features include:
Meet The Charming Scruff Family!
Immersive Storyline With Witty Banter!
Unique And Fun Hint Mechanism!
Innovative Mini-Games!
The Scruffs Game Customer Reviews
Hidden object games are not my favorite genre, but this one is outstanding. Quirky art, great voice work, funny lines, and cute mini-games. Difficulty was just right.

- by arcadiarose
As a mom to 2 children under 5 I find my days filled with ABC and 123. After awhile your brain feels like it's turning to mush. When they are napping or in bed I find this game a great way to exercise the mind. Once you have been through it you start remembering where things are but it doesn't get boring because then you can push yourself to better your time. Over all great game with a cute story line.

- by Donella K. Rideout-Martini
I thought this game had a nice little twist on the normal search and find games. I found the cartoon characters cute and fun. Overall it is an easy game, but of course finding items can be challenging. Also had an interesting "hint" system.

- by caressana
Related Games
If you like The Scruffs game, you may also like...