The Timebuilders: Pyramid Rising
Bring hope to the people of Egypt! in addicting The Timebuilders: Pyramid Rising Game
System Requirements
OS: Windows XP/Vista
CPU: 1.4 GHz
RAM: 256 MB
DirectX: 9.0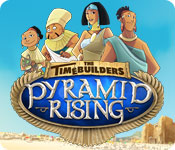 The Timebuilders: Pyramid Rising Game Description
Bring hope to the people of Egypt in The Timebuilders: Pyramid Rising, an exciting Time Management game! Assistant to the Royal architect Senmut, you have been appointed the daunting task of reconstructing villages and bringing hope to the people of Egypt. Only you can save them from banishment to eternal darkness by the mighty god, Amen-Ra. Hire workers, manage resources, build structures and gather stone all while fending off alligator attacks and more!
The Timebuilders: Pyramid Rising full version features include:
Fantastic gameplay
Awesome upgrades
Bring hope to Egypt!
The Timebuilders: Pyramid Rising Game Customer Reviews
Really cute game along the lines of the Build-A-Lot series, but set in ancient Egypt. The goal is basically the same - build whatever the level asks for. There are many chapters. Finished the 1st chapter in the hour free play and figure it will be at least a 5 hour game for me!

Like other building games, you get a bonus (golden cherub) for finishing in the time given. HOWEVER, unlike the other building games, you can finish your level even if time runs out. The only thing you don't get is the cherub and that makes no difference to me.

I have gotten to a point in game play, excepting WII, XBOX, PS3, where time is just a pain - especially in these point and click games, so I bought it right away when time was over for the simple fact time really doesn't matter if all you want is a cute game where you build things, which I do at times.

This is giving me something to do while I recover from tonsil and adenoid surgery. Hey, it's not a walk in the park at 51 years old, lol. I actually had to spend the night in ICU. THANKS FOR A CUTE GAME, BF!

- by BossBrat
This is a really fun time management/builder game! You are building villages and towns in ancient Egypt. I reminds me of Royal Envoy in it's graphics and mechanics. As Assistant to the Royal architect, you must build villages and towns including such extras as pyramids and statuary. You collect rent, quarry stones, bargain with merchants, build ports, and build "spruce ups," which are features like fountains, statues, trees, and incense offerings. These features ensure that the citizens will pay their rents on time. You can upgrade your workers with camels to make them work faster or carry more stones from the quarry at one time. You sometimes have to pay off thieves to be able to move to another area of the village. One of the really fun parts is that robbers show up at random to try to steal the gold you've earned. You have to grab them and shake them until they disappear. I've played about 20 levels and there have been 3 different types of thieves, sometimes all three on one level. I won't mention the disguises, but they are really clever and fun. Another thing that adds to the fun is that when you complete a level, the workers "do the Egyptian" dance. It's worth playing the demo just to see this!

The graphics are bright and the animation is cute. The music is appropriate and not too annoying. There is a timer, but if you run out of time there is no penalty. You can pay each level until you finish. If you finish within the time, you get a golden scarab, but if you don't you can still play the game. You can also go back and play a level again to see if you can finish on time. I've gotten the scarab in about three fourths of the levels I've played.

I'm liking this game as well as Jack of All Tribes or Royal Envoy. Give the demo a try and see if it tickles your fancy!

- by JammyCat
The Timebuilders: Pyramid Rising is a is a fun building strategy game. The Timebuilders: Pyramid Rising game is sort of Build-a-lot in Egypt. If you like the Build-a-lot games or building games in general you'll like this cute game with its fantastic gameplay and great upgrades Download The Timebuilders: Pyramid Rising game today and bring hope to Egypt!

- by Zoomer
Related Games
If you like The Timebuilders: Pyramid Rising game, you may also like...