Life Quest 2: Metropoville
Put your life in order in this amusing game. in addicting Life Quest 2: Metropoville Game
System Requirements
OS: Windows XP/Vista/Win7
CPU: 1.6 GHz
RAM: 1024 MB
DirectX: 9.0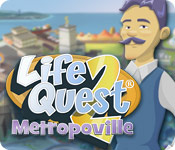 Life Quest 2: Metropoville Game Description
Move to Metropoville and begin a 12 step Life Quest program! Find a new rewarding career in this incredible Strategy game! Upgrade your vehicle, purchase a pet, and even find true love as you move up the social ladder. Go from rags to riches and complete challenging quests and difficult objectives to earn cash that you can invest in yourself! Race around Metropoville taking important classes, working awesome jobs, and enjoying your day in Life Quest 2: Metropoville!
Life Quest 2: Metropoville full version features include:
Find a new career
Complete challenges
Move to Metropoville!
Play Life Quest
Life Quest 2: Metropoville Game Customer Reviews
I loved the first Life Quest and got hooked with this one within 10 minutes. The gameplay is pretty much the same as it was, but with a lot more variations. More Challenges and you can choose if you want to compete with one of the characters or not. New and different locations are there as well and more ways to socialize with people around. And more ways to define your character at the beginning as well. Well done! a superb Ugrade to the first Life Quest. Love it !

- by somima
Have you ever tried to put your life in order in 100 days? Now its the time. Armed with nothing but some patched clothes and a lot of patience you can become big and I mean really. From an executive chef, to mayor of Metropoville or winning the Knobel Prize. And to top the reality the best goes to sports when it comes to money. You can even compete with someone in every challenge. Don't forget to eat and just go for any career. The game is fun. All the skills are gain by following training courses and working hard but the characters and the surroundings are really fun and addictive.

The graphic is cartoon like but very colorful and nicely done. There is also a lot of shopping to do and even a having fun quest. The minus is that after the 100 days, tho you can continue to play there is no challenge anymore. Only curiosity if you have enough patience.

- by Grimlaura
Life Quest 2 manages to be better and somehow different than the original Life Quest. The challenges are differently organized and several hours into the game I have not found so far the weakness that the previous version had, namely that there was a more or less "obligatory" route of progression if you wanted to "beat" the game. On the contrary the game seems to be built to be highly replayable. You could choose the paths you want, the challenges you want. You can even choose to play or not to play against a competitor.

I don't want to say more here as much of the joy of such a game lies in the discovery of how it is all put together. I definitely recommend you try it.

- by GoneFishing
More challenging than the first game. You can choose opponent or not. You can make friends and maintain friendships. You are alo more free to make "achivements" even during other tasks. So far I only played the trial version, but seriously considering using a game club credit.

- by Linca1
Related Games
If you like Life Quest 2: Metropoville game, you may also like...