The Tribloos 2
The Tribloos are back in a brand new adventure! in addicting The Tribloos 2 Game
System Requirements
OS: Windows XP/Windows Vista/Windows 7/Windows 8
CPU: 1.2 GHz
RAM: 2048 MB
DirectX: 9.0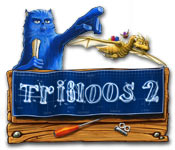 The Tribloos 2 Game Description
The Tribloos are back in a brand new adventure! Join Trey and the gang as they embark on a brand new epic journey. The storms that wrecked havoc on their island have returned and they need to find a way of stopping them permanently before their friend Matilda the Dragon completely tires out! Can you help Trey build his way to the truth behind these terrible storms and stop whoever is responsible once and for all? Find out in The Tribloos 2!
The Tribloos 2 full version features include:
Fun and challenging levels
Over 22 minutes of original music
Save your island home!
Play The Tribloos
The Tribloos 2 Game Customer Reviews
I remember playing the first installment of this game and liking it- but not as much as this one! During the trial, I thought it was a little too easy, but I really enjoyed playing so I purchased it. Thank goodness I did, because the levels got harder and it's currently my favorite game! It's nice to see some different TM games coming out. Give it a try, you won't be disappointed! =)

- by tinam23
Despite looking like a game for toddlers, Tribloos 2 is a surprisingly challenging time management game. While helping the Tribloos rebuild, you collect wood, build houses, make food, etc, on a platform reminiscent of a 2D side scroller. The game play is good, and it can be difficult to achieve gold (sometimes even silver) on some levels. Many levels require pre-planning before starting, so as to be able to complete the level.

I was pleasantly surprised and, though I've not yet finished the game, I recommend it to players who enjoy games similar to My Kingdom for the Princess or Roads to Rome.

- by Medb
I loved the first game but it took me a long time to work out the best strategies for a lot of levels.

Tribloos 2 fixes a lot of little annoyances in controlling your fellas and improves the graphics a great deal. The sound and music is perfect for the game and the whole thing has a refreshingly fun and positive approach! Buy it! Then wait for the next one and buy that too!!

- by NightSod
Related Games
If you like The Tribloos 2 game, you may also like...