Youda Sushi Chef 2
Step into the delicious world of Youda Sushi Chef 2 in addicting Youda Sushi Chef 2 Game
System Requirements
OS: Windows XP/Windows Vista/Windows 7/Windows 8
CPU: 1.0 GHz
RAM: 512 MB
DirectX: 9.0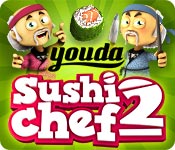 Youda Sushi Chef 2 Game Description
Step into the delicious world of Youda Sushi Chef 2, where you put your culinary skills to use. Prepare dishes in 6 restaurants all over the world. Learn mouth-watering recipes from the local cuisines by heart. Serve a 'Diner Delight', the 'Venice pie' and a spicy 'Tortilla poncho'. Don't forget to keep an eye on your supplies and order fresh ingredients on time. Manage your restaurant like a pro.
Upgrade your kitchen to speed up preparation time, get a faster conveyor belt and perform better tricks. Purchase a better coffee machine and upgrade your telephone to order multiple fresh ingredients at once! Get "Star power" to create irresistible puddings, instantly re-fill your ingredient stack, do magic tricks or just freeze all customers to buy some time; anything is possible!
Earn enough stars to progress to the next level! Prove that you are the best chef and beat your boss in each restaurant's final Battle. Play this tasty and fun time management game and become the ultimate chef in Youda Sushi Chef 2!
Youda Sushi Chef 2 full version features include:
6 amazing different restaurants!
Prepare more than 50 dishes
6 challenging Boss Battles
Unlock all features and levels!
Play Youda Sushi Chef
Youda Sushi Chef 2 Game Customer Reviews
Loved the first one and was thrilled to see another edition. This 2nd installment does not disappoint! Great game for fast paced memory and time/resource management type skills. It requires some fast thinking and cleverness to eat all the goals for each level and there is just so much replay value. So glad I bought it, I'm having a blast! If you liked the first one I see no reason you won't love this as well. Happy Gaming!

- by mendolyn
I love playing food games! And this is the best that I've played in a long time! I'm not that familiar with sushi, so the first restaurant was a bit challenging for me (but still really fun!# Once I graduated to the second restaurant #which served hot dogs), the game became a bit easier. I love how the food rolls to the customers on a conveyor belt and the power ups are great. There are multiple tasks to accomplish so the game has great replay value. I highly recommend it!

- by sparklefish777
Quite improved, I like this one because the first Sushi Chef was very short, and with this one you can get hours and hours of nice play. Some levels are really dificult, I like so. I don't give the fifth star because still crashes occasionally

- by asenka
Related Games
If you like Youda Sushi Chef 2 game, you may also like...