The Tribloos
Save the Tribloo village! in addicting The Tribloos Game
System Requirements
OS: Windows XP/Vista/8
CPU: 1.6 GHz
RAM: 512 MB
DirectX: 9.0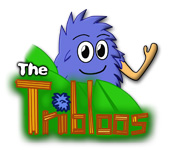 The Tribloos Game Description
Help Trey the Tribloo save his village from a destructive storm by embarking on a journey across the land in The Tribloos! Journey across Tribloo Island as you embark on a terrific journey with Trey and his friends as they search for help. Rebuild the villages of different Tribes and become the hero of the Tribloos in this incredible Strategy game.
The Tribloos full version features include:
Fantastic gameplay
Exciting action
Save the Tribloo village!
The Tribloos Game Customer Reviews
his is a good strategy/building game, a very cute one. For me its a little bit to easy. But I wish everyone "Happy gaming" with this game.

- by Tribloos
well i just did the demo, and what a cute little addicting game,, easy learning curve, cute graphics, i only did like 3 levels b4 deciding to buy,, building games are my fave so i am throughly enjoying my self, gonna start a soft release thread (still think soft releases need to be a sticky thread in ccc, so many miss them) the dev is there now,, and what a great little game....looks like 5 areas, the 1st had 16 levels, so if all areas have the same amount, gonna be long,,, getting gold is going to be a real thinking process....its just adorable, and a great start from a new dev,,,too bad its the soft release as most builders seem to be, i did start a soft release thread in ccc (without mentioning the game name of course, so bfg doesnt move it) if you guys get a chance, check it out.

it has 75 levels, plus 5 bonus levels, it looks deceptivly simple, but getting gold on some levels you really have to think, (you can continue even without getting gold or silver score... it is throughly adorable, and completly addicting.

- by bella287
How adorable is this game! Build a Lot in Fantasy Land.

I think it plays on many levels. I could see my 6 year old grandniece and nephew loving it, because it plays quickly and with a lot of movement and bustle and is straight forward in what needs to be done. However simple it is in the gameplay, however, it is very difficult to consistently get gold and requires quite a bit of forethought and planning to pull it off. (Not that I have yet to do that.)

I definitely NEED this game!

- by mamamaggie
A very nice game. As others have said graphics and game play so far are basic (only on level 4 here) but a lot of fun. Strategy is important, you have to decide what to have your workers do in what order to hit the gold level. I recommend this game for something different and enjoyable.

- by RORGE
Related Games
If you like The Tribloos game, you may also like...