Viking Saga: New World
Find a cure and save your kingdom! in addicting Viking Saga: New World Game
System Requirements
OS: Windows XP/Windows Vista/Windows 7/Windows 8
CPU: 1.2 GHz
RAM: 512 MB
DirectX: 9.0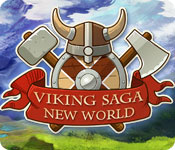 Viking Saga: New World Game Description
Several years have passed since Ingolf became the king of Iceland. Since taking the throne, the king has married his beloved wife, Dalla, and welcomed two beautiful children into a growing and prosperous kingdom. But when a terrible disease begins to sweep over his lands, Ingolf must travel to the far west to find a cure that will save his family and his people! Join Ingolf on an unforgettable journey to the wondrous corners of the ancient world and meet new characters along the way in Viking Saga: New World!
Viking Saga: New World full version features include:
Absorbing storyline
Renewed gameplay and mini-games
Find a cure and save your kingdom
Meet new and intriguing characters
Play the original Viking Saga
Viking Saga: New World Game Customer Reviews
Another great Viking themed Time Management Game. There are new tasks one of which drove me crazy, snow drifts! If you don't clear the snow drift when it's small, it get's bigger and bigger and takes a lot more resources. This game has a really interesting way of progressing each level, most scenes start out in a small circle and gets larger as you light campfires. Even though this is a TM game you still need to put a little strategy into the game in order to meet your goals, knowing which buildings to build or which paths to clear first are crucial. You will also want to use the bonus bar as often as possible to earn three stars on each level. The bonus bar recharges after each use and will have several different tabs such as speeding up the Vikings, adding another worker or freezing time. You still need to clear paths, cut down trees, gather food and light campfires, but you also need to build huts, and log cabins in order to receive rent in the form of silver, upgrading these buildings gives you even more rent. You can build farms to produce food and sawmills to produce wood. Some spaces require you to demolish them in order to build something of more value. You will dismantle and mantle Viking ships as well as going ice fishing, picking berries or even finding treasure chests full of food wood or silver. Warning, you will be playing this game all day long, enjoy!

- by pennmom36
Wonderful game! There is a part one to this series that came out not to long ago. Similar to the Northern Tales genre of games. Thank goodness we got this one after the horrible disappointment from the MKFP! Good game play and somewhat challenging. Story is cute and makes you want to find out what happens.

- by Alschorn
I loved the first game and I love this one as well. You can easily buy this game without the first and still get into the story, which is Ingolf is sent abroad with his brother vikings to find a cure for an illness that ravages his people. You still have the Druid's help, but Ingolf encounters more people (including Indians) along his adventure and this game adds things the first game didn't have (ie- air balloons). It's more challenging than the first game once you're past the first few levels, and is as good a time management game as you'll find.

- by EHinSF
Related Games
If you like Viking Saga: New World game, you may also like...