Tradewinds 2
Amass a fortune trading goods and fighting pirates! in addicting Tradewinds 2 Game
System Requirements
OS: Windows 2000/XP/Vista
Memory: 64MB
DirectX: 7.1
CPU: P400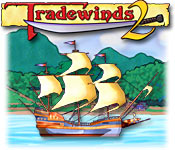 Tradewinds 2 Game Description
Amass a fortune by buying and selling goods in this fantastic seafaring game of chance, skill and adventure! Earn enough gold to upgrade your ship and engage in land and sea battles. Trade magic weaponry and mysterious artifacts as you encounter a fascinating new world and discover uncharted ports. Two game modes and over sixty hours of gameplay await you in your quest to dominate the high seas!
Tradewinds 2 full version features include:
Trade Goods And Fight Pirates!
Over 100 Swashbuckling Adventures
Customize Your Ship And Characters
Over 60 Hours Of Gameplay
Tradewinds 2 Game Customer Reviews
Sandlot Games has out done themselves with the whole Tradewinds series. Tradewinds 2 is a best buy if your thinking about buying a game and havent tried this one than you should consider it. You will fall in love with this game as I did. Great for all ages. Dont forget to try Tradewinds Legends you wont regret it.

- by TheXRooster
I absolutely love this game. I haven't played it in quite awhile, but in going back and writing reviews I decided to load it up again. Now I can't stop! I enjoyed this game so much the first time I played that I kept a notepad of when and where to buy things to maximize revenue. Apparently it's a Pirates Life For Me. :)

- by taranllyr
I have played this game through 2x and am on my third go round (each with a different character). I like how you can 'die' and go back and make different choices to keep in the game. I save on exiting and have had to start a 'round' over, but it was worth it. Have not found where you can have more than 1 ship at a time, however, even though at the shipyards it indicates that you can have a fleet. Maybe with the notorious pirate. Great game!

- by reikirose
Related Games
If you like Tradewinds 2 game, you may also like...