Treasure Seekers: The Enchanted Canvases
Find and save your brother! in addicting Treasure Seekers: The Enchanted Canvases Game
System Requirements
OS: Windows XP/Vista
CPU: 1.0 GHz
RAM: 256 MB
DirectX: 7.1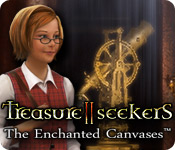 Treasure Seekers: The Enchanted Canvases Game Description
Help Nelly find and save her brother from a mysterious Romanian castle! Dive into the castle's magical pictures and discover the secrets of the Philosophers' Stone. Use your Hidden Object skills in Treasure Seekers: The Enchanted Canvases to break the spells on the castle and track down Tom. Find the wicked person responsible for imprisoning him and take home the ancient and priceless treasure!
Treasure Seekers: The Enchanted Canvases full version features include:
Stunning scenes to search
Save your brother!
Treasure Seekers: The Enchanted Canvases Game Customer Reviews
What a great game, excellence graphics great sound effect, clear objects. Story line isn't boring, not too hard but challenge enough for you to continue to play the game, Casual and Advanced mode, Treasure Seekers 2 is a game you don't want to miss.

- by triplegamer
I highly recommend this game. Wow the graphics are so beautifully done. The storyline is great, the hint system is easy. A few places were a bit dark to find the objects the game is so beautifully done I refuse to take a star away for that flaw. I so much would have liked to hear the voices of the characters we meet. Can only imagine what the genie in the lamps voice would have sounded like. I bought this immediatly and also the first Treasure Seekers. However this one is holding my attention much better, and I prefer this one over the first. Looking forward to more games of the same calibar, oh but please can we have voices for the characters game designers. It adds so much more depth to a game in my opinion.

- by sherryah
The only shortcoming I could find was that it was a bit shorter than I would have liked. The graphics are gorgeous, the plot is fascinating, there is no timer (whew!), mini games can be skipped; and it is just plain, good fun. Anyone who enjoyed the first "Treasure Seekers" will like this. (For those who have not tried the original "Treasure Seekers"; if you like either of the "Mortimer Beckett"'s or "Mystery of the Crystal Portal", you'll enjoy this.)

- by thistle809
Related Games
If you like Treasure Seekers: The Enchanted Canvases game, you may also like...