Wild Tribe
Unlock the mysteries of Tribesville! in addicting Wild Tribe Game
System Requirements
OS: Windows XP/Vista
CPU: 1.6 GHz
RAM: 256 MB
DirectX: 9.0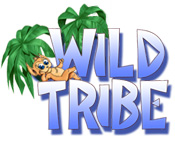 Wild Tribe Game Description
In the teeny tiny village of Tribesville, a Wild Tribe of little creatures called Wobblies have lived peacefully for thousands of years. Dark times are on the horizon, however, as the food and water supplies are diminishing and hyenas are stealing resources. Can you use your Time Management skills to transform these simple creatures into a tribe of foragers, doctors, builders and guards before it's too late?
Wild Tribe full version features include:
Cute critters
Collect magical objects
Defend your Wild Tribe!
Wild Tribe Game Customer Reviews
I thought the game was amazing compared to the ridiculously frustrating and complicated games on the market such as MY TRIBE, VIRTUAL VILLAGERS and ETC. The little characters were too cute and the game made it impossible to get all the way near the end just to have all your animals die from old age. It allowed you the continuously procreate new swoonies throughout the game. I would recommend this to anyone who doesn't mind spending multiple hours in front of the screen. I beat the game in 17 real life hours and would love to see where the adventurers will travel to next.

- by tbetts82
You really need more then an hour to play this. The beginning basically is evolving your creatures and building. To help with the speed just go to options and pick fast. That does help quite a bit. Similar to other tribal games but it does have its own different parts. I enjoyed it, wish there was longer time.

- by DesertKaat
I loved this game! This game is very much like VV. I liked the new challenges. Needed more than 60 minuits to play.

- by justgrand
Related Games
If you like Wild Tribe game, you may also like...