Westward Kingdoms
Are you worthy of the throne? in addicting Westward Kingdoms Game
System Requirements
OS: Windows XP/Vista
CPU: 1.0 GHz
RAM: 512 MB
DirectX: 9.0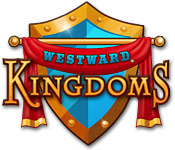 Westward Kingdoms Game Description
The king has banished his two spoiled, young heirs from their royal realm, and given them a task: To prove themselves worthy of the throne, the heirs must restore the greatness of three neighboring kingdoms. Roam the countryside with Prince Fenwick and Princess Catherine as they seek the guidance of friendly Kings, Countesses, Dukes, and loyal subjects. Navigate dangerous forests, teeming with ogres, barbarians, wizards, dragons, and fearsome Black Knights, as you uncover the truth behind the royal banishment in Westward Kingdoms!
Westward Kingdoms full version features include:
38 buildings, all-new upgrades and features
Train skilled workers to run advanced buildings
New enemies determined to stop your progress
All-new Sandbox Maps
Unlock secret items and characters hidden throughout Westward Kingdoms
Westward Kingdoms Game Customer Reviews
The change of scenery in Westward Kingdoms is a bit disconcerting at first. The artwork, nevertheless charming, is a bit of a throwback to the earlier Westward games. The developers had managed to fine tune the graphics in the Westward old west to the point where everything was sharp and drawn with amazing attention to detail. This game is lacking that sharpness. Since the artwork had to be completely redeveloped for the new location, it is not as exquisitely detailed. The game play is redesigned so that the characters must be upgraded in skill to complete the quests. This is an interesting addition to the game play. If you are a fan of the series, you will enjoy this game. The new mechanics just take a while to adjust to. The game is truly worth the investment if you consider the length of the game itself. This is not some "I finished this in 4 hours'... sort of game. Just like the game itself, playing Westward Kingdoms is a quest in itself. Be prepared to spend a lot of quality time with this game, it is a long one. I consider this money well spent. I have not even finished the game. It is a risk to deviate from the proven success of a series and I applaud Sandlot for trying to take the game to a new level, rather than rest on the established formula. The game is wonderful. It is full of challenges, and packed with humor. A+

- by eketelsen3
i finished the game and loved it, now trying to get all the trophies just cos i feel i need to. the game is inspired on other westward games, which i also love. i like the fact you need to solve puzzles to advance and find items etc. the people who are so negative should go play cards or sth. it's much improved on westward as now you can travel between kingdoms if you feel like a change or want/need to go back to complete a task. it's great

- by missbflat
If you enjoyed the other Westward games, you'll probably like this one. If you haven't played any of them, I would suggest playing the previous games before this one, because they all sort of build on each other in terms of game mechanics. It's not necessary, though.

I would like to give it a 4.5, really. The graphics are cute, but I feel like they're not as nice as the previous Westward's graphics. There are lots of new additions to the game, which makes it all the more interesting. You can level up your workers and soldiers, and you can change their category of work (as in changing a peasant into a scholar) when they gain enough experience. Most of the quests are fun and humorous. However, some of them get a little tedious. Occasionally the game will ask you to gather some sort of ingredients, and this leaves you scanning the screen for tiny, tiny objects (like carrots). Fair warning: The princess's voice is irritating at first, but you'll probably get used to it . "You want me to do what?! Ugh. Suuuuure."

There are three kingdoms to rebuild. The first two are nice to look at and have a fun sort of charm. The third kingdom is hideous. There's a reason for this within the storyline, but it's still awful to look at and has a very strange layout. Despite the game's few flaws, it stays true to the Westward brand and is a very long (yet very fun) game that is definitely worth your while (and money).

- by Imberis
Related Games
If you like Westward Kingdoms game, you may also like...