Women's Murder Club: A Darker Shade of Grey
Take a crack at a baffling murder case! in addicting Women's Murder Club: A Darker Shade of Grey Game
System Requirements
OS: Windows XP/Vista
CPU: 1.0 GHz
RAM: 128 MB
DirectX: 9.0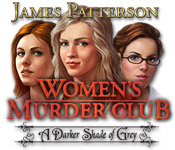 Women's Murder Club: A Darker Shade of Grey Game Description
An unidentified body is found on a rocky beach was it an accident, or was it murder? The heroines of Women's Murder Club are back. This time they must uncover secrets surrounding a recent murder at a prestigious Southern military academy. Investigate each crime scene with a professional eye. Take pictures and samples for examination back to the lab. Solve challenging puzzles and interrogate suspects to reveal the true killer in this thrilling adventure!
Women's Murder Club: A Darker Shade of Grey full version features include:
Women's Murder Club: A Darker Shade of Grey Game Customer Reviews
5 Stars for me. Engaging story, no timer, solid visuals and presentation, kept wanting me to play more to find out what was going to happen next. Random note to developers: IMO, hidden object games should not be timed because most people play them to relax and unwind, but time management and strategy games should have a timer so there is a challenge.

- by carfixer1957
Lots of lovely scenes and great artwork. Fans of WWC1 will like it. More of an Adventure with HO scenes as spice. I particularly HATED the "cut scenes" (they call them "story scenes") where you couldn't skip over dialog (by clicking once) without waiting for a LONNNNG time. And those scenes are important for understanding what you're doing. Some of the puzzle sequences were innovative, but not that difficult. And why have the DA character involved if she doesn't get to play as a character? With all the enthusiasm that fans of this series had for the sequel, I felt somewhat disappointed. Pro: new types of puzzles: the Ceasar code was fun. Cons: The Laundry room scene. Overall, not sorry I bought it but expected MORE.

- by zahnprod
I purchased the game and don't regret paying full price. They deserve it in my opinion. This game has everything I am looking for in a game. Beautiful clear graphics, great storyline, generous hints,plus if you get stuck on a puzzle which I have done, it will automatically solve it for you. Various puzzles and I love the dialogue each character has a personality you will remember. I bought the 1st W.M.c. but hated the blood testing, now the blood testing is actually fun! I highly recommend this game and hope everyone will at least try the demo. This game has everything I was looking for in a game except I really would have liked to to hear the voices of the characters. Ah well perhaps next time.

- by sherryah
Related Games
If you like Women's Murder Club: A Darker Shade of Grey game, you may also like...