Women's Murder Club: Death in Scarlet
A stunning page-turner featuring James Patterson's Women's Murder Club! in addicting Women's Murder Club: Death in Scarlet Game
System Requirements
OS: Windows XP, Windows Vista
Memory: 128 MB
DirectX: 9.0 or later
CPU: P 1.0GHz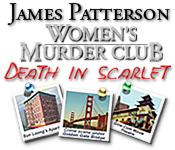 Women's Murder Club: Death in Scarlet Game Description
Investigate this unique blend of seek and find and puzzle games combined with an all new tale from America's #1 storyteller, James Patterson! In this thrilling page-turner, take on the roles of a homicide detective, a medical examiner and an ace crime reporter to solve a series of ghastly murders in San Francisco. Featuring nine investigations, brain-bending puzzles and a spine tingling, all-new storyline, Women's Murder Club: Death in Scarlet will have you racing to the finish to discover the killer!
Women's Murder Club: Death in Scarlet full version features include:
All New WMC Storyline!
18 Locations Throughout San Francisco!
Solve Puzzles And Find The Clues!
9 Uniquely Detailed Investigations!
Women's Murder Club: Death in Scarlet Game Customer Reviews
This game is amazing! I never played such good a game! I had never thought of playing the type of these games, but im glad i did! Play as a detective, solve mysteries, and puzzles! Womens Murder Club Death in Scarlet, is my new favorite game, when its hard its more fun! I got to a puzzle where you need to put some bottles in the right order 4 times, then it becamed hardere and hardere to solve, but it is very fun....

- by TotallyMangaFan
If you are a fan of the CSI and Law & Order games, then you will love Women's Murder Club: Death in Scarlet. You don't need to be a fan of the series of novels to enjoy or play the game. And if you are a fan of the book series, you are still in for a treat. Patterson wrote an original plot and storyline for this game. Playing Women's Murder Club: Death in Scarlet is like interactively experiencing a thrilling Patterson novel. Hours will pass in what feels like minutes as you race to discover the truth and stop a psychotic killer in Women's Murder Club: Death in Scarlet. ...

- by Lauren English
... With excellent production values, solid gameplay, and a strong storyline, Women's Mystery Club is an addictive and intriguing hidden object mystery that should please fans and newcomers alike. It manages to be suitably creepy and detailed without relying on gore, and offers enough realism to give the player a real detective feeling.

- by Gamezebo
Related Games
If you like Women's Murder Club: Death in Scarlet game, you may also like...