The Wonderful Wizard of Oz
Enter the whimsical world of Oz and be drawn into a timeless classic! in addicting The Wonderful Wizard of Oz Game
System Requirements
OS: Windows 2000/XP/VISTA
Memory: 128 MB
CPU: P 1.0 GHZ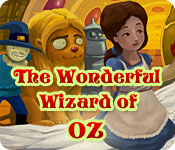 The Wonderful Wizard of Oz Game Description
Are you brave enough to face the Wicked Witch of the West and the great and terrible Wizard of Oz? Only you can help Dorothy and Toto find their way home! Enter the whimsical world of Oz and get caught up in a timeless classic! With the Wicked Witch of the East now gone, it is your duty to free the remaining Munchkins from their jeweled prisons and bring order back to the Land of Oz! On the way, help the Scarecrow find his brains, the Tin Woodsman find his heart, and the Cowardly Lion find his courage!
The Wonderful Wizard of Oz full version features include:
Free The Munchkins!
50 Exciting Levels With 10 Story Chapters!
Move Gems In All Directions!
Enchanting Storyline!
The Wonderful Wizard of Oz Game Customer Reviews
i'M A WIZARD OF OZ FAN AND I LOOOOOVE THIS GAME! IT IS VERY CUTE AND LOVE THE DIFFERENT OBJECTS THAT THEY GIVE YOU TO SCORE MORE POINTS. I WILL DEFINATELY BE BUYING THIS GAME!!!!!!!!!!!!!!

- by loricory1
if you grew up with thw story of Dorothy and her way back to kansas, play this game, believe me, you

- by florayfauna_primavera
I like this game beacause I can have many knoweldge from this and I have fun with this game beacause this game is just for all of us!And I love it!!!!!!!!!!

- by salvia.taslim
This is an excellent game for kids or if you just want a relaxing, fun game to pass the time. There are lots of helps, hints and surprises. A bit short to play though.

- by mek509
When I started playing this game I thought what a marvelous way for parents & grandparents to spend quality time w/their children & grandchildren having fun playing & reading together w/the timeless classic of The Wizard of Oz. The game is fairly easy especially in the beginning to get you acquainted w/the many power ups that you will need as the game gets more challenging. Great FUN for the ENTIRE family. I recommend below more KID FRIENDLY match 3 games.

- by GameDancer
Related Games
If you like The Wonderful Wizard of Oz game, you may also like...