Jungle Quest
Embark on an amazing journey to find the Fountain of Youth! in addicting Jungle Quest Game
System Requirements
OS: Windows XP, Windows Vista
Memory: 512 MB
DirectX: 9.0 or later
CPU: P 1.2GHz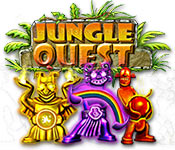 Jungle Quest Game Description
Join world famous archeologist Cathie Jones as she embarks on an amazing match-three journey to find the legendary Fountain of Youth and stop the spread of a deadly virus! Jungle Quest offers an exciting storyline brought to life by stunning artwork and gameplay that will draw you into the depths of a forgotten jungle! There are 60 explosive levels that will send you into sensory overload along with 6 mini-games to challenge your logic skills! So start your Jungle Quest today!
Jungle Quest full version features include:
60 Explosive Levels!
14 Bonuses To Collect!
Play 6 Different Mini-Games!
Travel Through 6 Unique Locations!
Jungle Quest Game Customer Reviews
An excellent match 3 game. Although I did have a run time error on my pc with this game it did not spoil my enjoyment of the game. Lots of upgrades to purchase in the shop and you are constantly awarded with trophies when you have met a challenge or played well. Good graphics and sound, plenty of variety in challenges.

- by farrago
This is the most perfect evolution of the match 3 genre ever. The graphics music and sound are all top notch, the gameplay is beyond spectacular and the level of challenge is absolutely perfect. Never frustrating, never boring, ALWAYS challenging. This is my favorite match 3 on this site , or any other and one of the most phenomenal casual games ever. Definetly buying this one on Pay-day.

- by nosensiblenamesallowed
I hate to beat a dead horse, but will any way. This is definitely a new twist on match 3 game play. It's great to have fun puzzles thrown in just to keep you on your toes. The story line is great and the game suits it.

- by brewdevil
Related Games
If you like Jungle Quest game, you may also like...