World Riddles: Animals
This is a great and quite challenging puzzle game. in addicting World Riddles: Animals Game
System Requirements
OS: Windows 98/ME/2K/XP/Vista/7
CPU: 600 Mhz Pentium or equivalent
RAM: 256 MB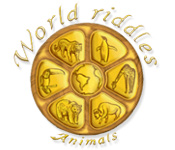 World Riddles: Animals Game Description
You have to go in journey around the world. Seven continents with over 120 levels are waiting for in story mode. Exciting mini games will let you catch your breath and interesting facts about animals will replenish your body of knowledge. In addition you will be able to check your skill and beat all records in special ultimate mode with forty-nine new riddles.
World Riddles: Animals full version features include:
Over 120 levels in the main mode
Fascinating mini-games
49 new riddles in the additional mode
Interesting facts about animals
Relaxing music
World Riddles: Animals Game Customer Reviews
I like this game and bought it. So far I have done 2 1/2 continents/countries and the main puzzles are like the ones in "World Mosaics" where you have a grid and have to find where the items are and where the blank spaces are from numbers given at edge of grid.

Then there are a few 'spot the difference' and remake the picture/slider, maybe some different mini puzzles as you go further into game. There is a timer but there isn't a limit on the time and it just gives you a chance to compare your time with their 'expert' time.

If you complete a puzzle without any mistakes (you are given 3 or 4 chances of errors) then you receive 'awards', but you can replay any puzzle as many times as you like to get the perfect game. I find the game very pleasing to the eye.

- by mews
As someone that has played a multitude of childrens educational games, I must say that I found World Riddles: Animals charming, educational, and a wonderful introductory puzzle game for children. This puzzle game teaches children how to follow directions and how to solve basic logic puzzles that, with time, can easily lead to children transitioning to more difficult puzzles. I do believe that this game had the potential to be a memorable puzzle game that children will gladly play for hours.

- by puzzleuniverse
Related Games
If you like World Riddles: Animals game, you may also like...