Zombie Bowl-O-Rama
From the depths of the graveyard...Bowl or Beware! in addicting Zombie Bowl-O-Rama Game
System Requirements
OS: Windows 2000, Windows XP, Windows Vista
Memory: 256 MB
DirectX: 9.0
CPU: P 1.0 GHZ
Video: 64 MB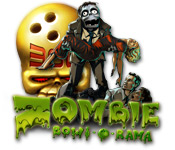 Zombie Bowl-O-Rama Game Description
The Zombies have taken over your favorite bowling lanes, and it's up to you to send 'em back to the graveyard where they belong! Select a colorful character and your favorite ball to take on the attacking Zombies...with a few tricks and treats. Give a whole new meaning to Zombie strike when you set 'em up and take 'em down with cool power ups and tricky obstacles. Bowl or Beware, Zombies!
Zombie Bowl-O-Rama full version features include:
Bowl Through To The Big Showdown!
10 Terrifying Balls To Choose From!
Use Crafty Tricks Like Werewolves and Dance Fever!
Bowl With Delectable Brains and Meatballs!
Zombie Bowl-O-Rama Game Customer Reviews
i bought this game because my husband and i love bowling games.to are surprise this was the most fun i had in a bowling game in a long time.during the games you can pick up treats that will help you bowl,but beware at the same time your opponant is picking up items to go against you,such as smaller ball,dancing zombies,even a saw to cut your bowling ball in half.this game is full of suprises.this game is definately worth getting,fun for all ages and deffinately worth the money.

- by L. zaczek
I love this game! Fun to play and lots of combos/power-ups give it variety which makes it different each time you play. The only reason I give it 4 stars instead of 5 is because the length of the story mode is way too short. However, don't let this discourage you from buying it as it's a great game that is loads of fun!

- by stcyhood
Great for Halloween. Must have been created by Herman Munster or Gomez Adams. Graphics are very clear and bright. I found the music at bit out there and a touch bothersome,(but thats just me) but the grunts and growls from the zombies was cute. Knock down the zombies and send them in pieces, quite goulish. Your choice of bowling balls is creepy. game play was fun. Over all a spooky-gruesome-scary fun game. On the other hand there was a time I would have thought the music was "far out". So music aside I give it a 5 star because I love seasonal themed games. This is one you will have fun with.

- by funkat
Related Games
If you like Zombie Bowl-O-Rama game, you may also like...