Hyperballoid Golden Pack
Satisfy your craving for arcade thrills with this addictive brick-buster! in addicting Hyperballoid Golden Pack Game
System Requirements
OS: Windows 2000/XP/VISTA
Memory: 256 MB
DirectX: 8.0 or later
CPU: P3 800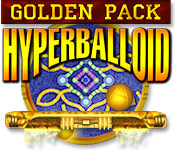 Hyperballoid Golden Pack Game Description
Prepare yourself for an addictive brick-buster crammed with a staggering 1,000 levels and 25 specialty bonuses! To defeat some of the most mind-bending stages ever created for a 2D Breakout game, all you'll need is the ability to slide a paddle across the bottom of your screen and hit balls toward moving targets. With stunning graphics, slick techno music and outrageous power-ups, Hyperballoid Golden Pack will satisfy your craving for arcade thrills!
Hyperballoid Golden Pack full version features include:
20 Brick-Busting Worlds!
25 Specialty Bonuses!
1,000 LEVELS!
More Than 30 Hours Of Gameplay!
Hyperballoid Golden Pack Game Customer Reviews
I like this game. Arts are nice, live and very funny sometimes. And I like the idea to have 20 packs for the price of one game. Bonuses are different; some of them obviously borrowed from other breakouts, but overall selection is good. Sometimes I use this NextLevel bonus box, when I get bored trying to break the last brick. Anyway, game is very enjoyable. Easy to play, and a lot of fun!

- by woobinda
Hyperballoid Golden Pack contains every Hyperballoid level ever made. This Golden Pack is amazing value and is certain to satisfy all those Hyperballoid addicts out there, and believe me, there are a lot of them. So if you've been on another planet and have never heard of Hyperballoid or haven't tried a brick buster game before download Hyperballoid Golden Pack and see what everyone has been talking about!

- by Zoomer
Hyperballoid golden pack is totally amazing. I got a few of the other Hyperballoid packs but this golden pack blows me away. Amazing value!!

- by TerraPrime
Related Games
If you like Hyperballoid Golden Pack game, you may also like...