1912: Titanic Mystery
Solve a 100 year-old Titanic mystery! in addicting 1912: Titanic Mystery Game
System Requirements
OS: Windows XP/Vista
CPU: 1.0 GHz
RAM: 256 MB
DirectX: 8.0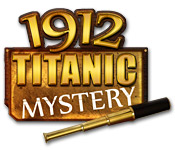 1912: Titanic Mystery Game Description
A bomb is aboard the Titanic II, a replica of the famous cruise ship! You are the sole person who can find where the bomb is concealed. Save the ship, and all aboard, during its maiden journey across the Atlantic Ocean. Search for Hidden Objects among original locations around the majestic ship to discover hidden diary entries and other clues to uncover the bomb`s location. Solve a century old mystery in 1912- Titanic Mystery!
1912: Titanic Mystery full version features include:
Haunting soundtrack
Puzzling minigames
Save the Titantic II!
1912: Titanic Mystery Game Customer Reviews
I purchased this game because I love all things Titanic, and it did not disappoint. The diary entries and the character interactions reveal great info about what it was like aboard Titanic in 1912. And the mystery of the bomb that is hidden aboard Titanic II, one hundred years later, is also very engaging. I enjoyed finding the objects hidden throughout the different locations around the ship--there was nice variation (some objects easy to find, others requiring closer inspection). It was also refreshing to have a generous amount of hints (in the form of life preservers) to help move things along. The mini-puzzles were fairly challenging and diverse, and I actually enjoyed reading the diary entries, which kept my interest as the story played out. The game was fun and, overall, I would recommend it to my friends.

- by B. Ferguson
Here's another HOG well worth the $6.99 price of purchase. The art, and background sound effects lure you into the story. The player finds himself/herself contining from scene to scene, wanting to learn more about they young Irish woman and her child, who traveled aboard the original Titanic. I found the mingames to be a lot of fun, and worth the time spent to play through them, and the hidden objects a challenging, but not impossible to find.

- by l8nytsimmer
Excellent game, graphics and sound. Very well designed and I love the fact you can skip the mini games to give you more play time. Wonderful, accurate story line as well. Curser was great and the game play is awesome. A great game to puchase for your self or to send to someone for the holidays.

- by lookforit
Related Games
If you like 1912: Titanic Mystery game, you may also like...