Twisted Lands: Insomniac
Escape a mental hospital! in addicting Twisted Lands: Insomniac Game
System Requirements
OS: Windows XP/Vista
CPU: 1.4 GHz
RAM: 1024 MB
DirectX: 9.0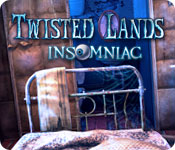 Twisted Lands: Insomniac Game Description
Help Angel figure out what is real and what is in her head as she attempts to escape from a Mental Hospital! Steeped in psychological horror, Twisted Lands: Insomniac follows the wife of the central character in the original game, as she attempts to escape the mental hospital in which she's imprisoned. Explore a haunting environment as you go on Angel's mystifying quest!
Twisted Lands: Insomniac full version features include:
Spooky atmosphere
Fantastic gameplay
For a more in depth experience, check out the Collector's Edition
Twisted Lands: Insomniac Game Customer Reviews
Excellent and thrilling...You will need to revisit the same areas at times but be sure to open and look for all items that might not be on the HOG list. Will keep you thinking and the graphics and sound are wonderful. Interesting and fun..kind of scarry at times when things go bump in the dark.

- by lookforit
This has about everything you need for a great HOG. Of course the hidden objects, game puzzles, great graphics and interesting storyline. Worth the time and is not a fast game, take your time and enjoy this game. Good replay as well!!

- by rwisti
This is one game I cannot think of one bad thing to say about. It's challenging enough to keep you sucked in and keep playing and even though it is challenging i's not hard enough to make you feel crazy trying to run around to find this and that and where it goes.. You have the option to chose casual or expert mode and since HO games are not really my favorite genre I selected the casual mode where the hints charge up more quickly and if you do require help to go somewhere all you have to do is click the hint and it will click the arrow you need to follow to get the puzzle solved. If you play HO games regularly with no problems I would suggest the expert mode but if you are like me and do enjoy HO games but not your favorite type then select the casual mode like I did. The story was amazing, the graphic's were awesome, puzzles were well thought out and it's a very enjoyable game to play. The only down side to me would be that it would last a bit longer but then again it may have lasted a long time I was just SO addicted to it that I could not stop playing.. Great replay as well.

- by KeaganXOX
I love games like this. It has a good storyline and great graphics. It isn't just a basic hidden object game. It has puzzles and interactive tools to use. The hint recharges pretty quickly. It was a great follow up to the first game.

- by nikki72111
I loved the game aaand it was way better than the last game. Nicely done, great music. The finding of objects were made more simple and the story was great.

- by Regina
Related Games
If you like Twisted Lands: Insomniac game, you may also like...