4 Elements II
Set the fairies free! in addicting 4 Elements II Game
System Requirements
OS: Windows XP/Vista
CPU: 1.6 GHz
RAM: 1024 MB
DirectX: 8.0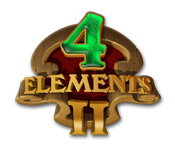 4 Elements II Game Description
Misfortune has befallen the magic kingdom again! A careless charm made the formerly wondrous ancient world overcast, beset with darkness and despair. Four fairies of the elements were deprived of their magic power. Be the hero the kingdom seeks: set the fairies of earth, air, fire and water free, and restore the book of magic in the sequel to the renowned puzzle game!
4 Elements II full version features include:
64 unique match-3 levels
4 exciting quests to complete
Brain-teasing mini-games!
Set the fairies free!
4 Elements II Game Customer Reviews
love this game. The graphics are clear and bright and pleasing. There is a personality to the game that makes it enjoyable. A good long game, too. I enjoy breaking the elements and reaching a goal better than finding any hidden objects, though, so I could do without that part of it. A relaxing game with challenges.

- by emmarts
This going to be a definite buy for me. I tested the beta version and LOVED IT. Actually, that test was what made me buy the first 4 elements game. Unfortunately, on that one, I cant seem to get past the second level in the fourth book. Im not fast enough, lol. But I am super excited to see this! YAY! I like these kind of match 3 games because they are a little adventure and a lot of match 3 but they dont get boring. I fall asleep after 15 levels of Fitz, lol. I need more of a purpose, kwim? Loving the 4 elements games!

- by tinkerbell90873
Everything about this game is great and I cannot think of one thing that brings it down. It's just that for me it didn't strike a chord. Fabulous graphics and soothing music help you along while you match your way through mazes and bring life back into the realm. I think it's just that I've never been one for chain matching. But, it's a beautiful game I must say!

- by kcerqua
This is a terrific game. I'm very picky about my match-3; they can bore me easily, but this is very fun Lots of variety and challenge, and a fun storyline. Lovely graphics, good length.

- by blulapis
I am usually not a fan of Match 3 games but after trying (and buying) GardenScapes I thought I'd give this one a try. After about 30 minutes of game play I bought this one, too. Playrix has hit this one out of the ballpark! The colors, whimsical characters, and the gaming environment all make this one a keeper. I especially liked the other mini games dispersed throughout the game board but would have liked to see a Skip button available for the sections where you need to move stone slabs around in order to clear a path for the energy flow to continue (in some cases you can go around that blockage but when you get further into the game it's impossible to avoid and you must solve it inorder to continue). I liked the fact that you could play this one in Relaxed mode because I like to take my time and look around at all the other things going on on the sidelines of the game board.

This is one the whole family can enjoy and I heartily recommend you take a look at it.

- by PipCat
Related Games
If you like 4 Elements II game, you may also like...