A Gypsy's Tale: The Tower of Secrets
Discover an ancient cursed tower! in addicting A Gypsy's Tale: The Tower of Secrets Game
System Requirements
OS: Windows XP/Vista
CPU: 1.0 GHz
RAM: 512 MB
DirectX: 9.0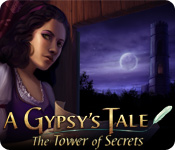 A Gypsy's Tale: The Tower of Secrets Game Description
Break a dangerous curse that is engulfing an ancient tower in A Gypsy's Tale, an entertaining Hidden Object game! After being hired by a monk, it's up to Reylin of Winderalth to travel deep into the wilderness, into a mysterious maze. Avoid nasty traps and solve clever puzzles as you help Reylin attempt to stop the curse from spreading. Can you outsmart the Tower of Secrets and save the day?
A Gypsy's Tale: The Tower of Secrets full version features include:
Fantastic gameplay
Exciting puzzles
Break the curse!
A Gypsy's Tale: The Tower of Secrets Game Customer Reviews
I loved the graphics and the bright scenes. You had no problem seeing any of it. I only played for an hour; but it is a great game. Looking forward to playing the rest. You had to go to different areas of the maps to find articles; and then use them in other areas. The puzzles were fun and interesting too. In each area; you had to find a piece of a map. Each piece allowed you to go to other areas and find more articles and more pieces of the map. I also thought that the hints were very helpful. I can hardly wait to play the rest.

- by tutor
If you're an Amaranth-games fan and/or a BFG member, you'll definitely want to check this one out. Don't be mislead by the relatively small size of the download--this game has it all over some that are much bigger. Sort of reminds me of "Treasure Seekers" and "Mystery of the Crystal Portal" in that you sometimes need parts and pieces to get the whole inventory item. That's enjoyable, though, because it brings in all of the nice, artfully-done graphics. The sounds are unobtrusive so I kept the speakers on. I've only experienced an hour or so of game time--can't comment on the length, but I think the BFG walkthrough is pretty long. You may want to consider this a "keeper."

- by elldee
A Beautiful and Challenging game! Great!! Great Storyline most Beautiful graphics and scenes. Keeps you busy for hours. A wonderful Adventure and Hidden Object game! So Beautiful. Try it, you'll sure to love! 5 stras all around!

- by TinaMO
Related Games
If you like A Gypsy's Tale: The Tower of Secrets game, you may also like...