Adventures of Robinson Crusoe
Help Crusoe get off the deserted island! in addicting Adventures of Robinson Crusoe Game
System Requirements
OS: Windows XP/Vista
CPU: 1.0 GHz
RAM: 256 MB
DirectX: 9.0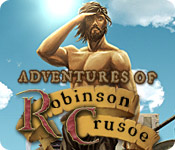 Adventures of Robinson Crusoe Game Description
Inspired by Daniel Defoe's classic masterpiece, Adventures of Robinson Crusoe is a story of a man who survives a terrible shipwreck and finds himself cast away on an island in the Caribbean. In this incredible hidden object adventure that spans over 28 years, help Robinson explore the island, fight with cannibals, visit a lost village and construct a new boat to sail back home!
Adventures of Robinson Crusoe full version features include:
Unique environments to explore
Fun mini-games
Help Crusoe get off the island!
Adventures of Robinson Crusoe Game Customer Reviews
Robinson Crusoe is a story of adventure and ingenuity, and also a travel narrative in which the hero journeys.And then is shipwrecked on a deserted island, and he salvages what he can from the shipwreck and provides himself with shelter and rudimentary furniture and tools.Crusoe never broods about his isolation; rather he occupies his time productively and triumphs over his unpromising environment, thus becoming an example of the triumph of the human spirit.

More than wonderful game.. It is preferred, & amazing. The adventures are chef d'oeuvre. It is wizard and magnificence. Adventures of Robinson Crusoe are various, and the story is correlative and identical. I loved it! Game deserve the first arrangement with worthiness. When I found this game, I think verily it is ordinary game but the one hour passed and the suspense isn't stopped.

The sound, the pictures. and the background are beautiful. And the levels contain different adventures. In brief, it is a special game, and it don't found similar, It is the best with: Samantha Swift and The Golden Touch, The Wizards Pen, Can You See What I See Dream Machine.. of this year ( until now) Adventurous, Suspense, Magic Game. In theory, it is the best and solitary game.

- by hajjrabih
This game is plesasant and pretty fun since the beginning, but it was extremely short. The end arrived when I started to want not to stop playing. It has various types of games and minigames such as finding the differences and guessing the pictures, etc. And you also have to perform actions to solve puzzles to get certain items as well. Overall, I think it was very good. I wish it was longer, this is way too short for an enjoyable game.

- by NAOFEH
Related Games
If you like Adventures of Robinson Crusoe game, you may also like...