Agatha Christie: Death on the Nile
A classic mystery becomes a Seek and Find adventure! in addicting Agatha Christie: Death on the Nile Game
System Requirements
OS: Windows 2000/XP/Vista/7/8
Memory: 64 MB
DirectX: 9.1 or later
CPU: P800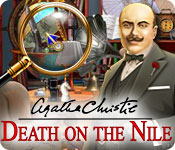 Agatha Christie: Death on the Nile Game Description
Embark on a great Seek and Find adventure which brings a whole new way of enjoying the timeless Agatha Christie story of Death on the Nile! Assume the role of renowned detective Hercule Poirot, seeking clues to a mysterious murder aboard a ship, cruising the River Nile. Find hidden objects, clues and the hard evidence that you'll need to question suspects and uncover the truth behind the Death on the Nile! Was it the obvious former fiance? Or the diamond thief? The answer may surprise you!
Agatha Christie: Death on the Nile full version features include:
Solve The Ultimate Crime!
24 Rooms Filled With Clues!
12 Investigation Levels!
Multiple Mini-Games!
Agatha Christie: Death on the Nile Game Customer Reviews
I loved this game. I am a huge Agatha Christie fan and it's true to the story. Really great graphics and no messing around to play. Good length. The only issue I have is replay value....I feel once you have played the game it's not much fun to do again as you can easily remember where items are. That's the sad part of these great games....there are too few really good ones and once you play them you want more. This is a AWESOME GAME for 1 play.

- by MrsMummy
this game rocks! of all the hide and find games this is the best one yet! the mini games are more then putting puzzles together and the story line isnt just whodunit it continues on as you play!

- by celestica14
I really enjoyed this game. A fun classic mystery that really stuck to the era it was based in. My only complaint would be that some of the objects were nearly impossible to find. I think there should have been either more hints or more time given on the clock, as repeating the same content can get annoying after awhile. I loved the storyline though and was definitely entertained.

- by DearLiza
Related Games
If you like Agatha Christie: Death on the Nile game, you may also like...