Awakening: The Dreamless Castle
Escape a mysterious castle! in addicting Awakening: The Dreamless Castle Game
System Requirements
OS: Windows XP/Vista/7/8
CPU: 1.0 GHz
RAM: 512 MB
DirectX: 8.0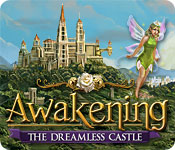 Awakening: The Dreamless Castle Game Description
After Awakening in a mysterious castle it's up to you to collect clues and valuable items needed to solve perplexing puzzles and escape! Listen to your fairy friend as she guides you towards the exit. Play fun minigames and solve clever locks to make it to the next room in the castle. Use your Hidden Object skills to search for the next hint and discover a young Princess' destiny in Awakening: The Dreamless Castle.
Awakening: The Dreamless Castle full version features include:
Gorgeous graphics
Escape the castle!
Awakening: The Dreamless Castle Game Customer Reviews
Very beautiful game, quite similar to the Dream Chronicles series but I personally thought much better. It has lovely scenes, and good mix of puzzles to try out. You collect various objects throughout the game that you use in different places. Some of the puzzles were quite simple and could have maybe been made slightly harder, but overall this game left me waiting eagerly for the next in the series.

- by aitchie
Really liked this one. Entertaining story without being too involved that would slow getting into the game. Straight and to the point. The Princess has lots of action to do, items to find, and puzzles to solve. Objects not too hard to find, but does have a fast recharging fairy hint button so you don't get stuck in the game. Lots of help with arrows pointing you thru the different scenes. Graphics were beautiful, colorful, well lit scenes, fun items to hunt for that are relative to the story, objects respond quickly when clicked on, objects look like they are supposed to, fun action HOG. Minigames were fun, like piecing the Unicorn back together. Music was good, not annoying. I skipped the tutorial and didn't have any problems playing. Game loaded well in short amount of time. Game played well and loaded quickly from scene to scene. Overall it's an excellent game. I never got bored. Disappointed when the 60 minutes were up. I'm considering buying this one.

- by GingerJack@ff
Actually I give it 4.5 stars, which still isn't bad at all. This is mostly an adventure game with about 10% straight HOG, and if you're accustomed to adventure games, you'll find it on the easy side. If you don't do adventure games, you may find it frustrating at times until you've cut your teeth on a few of these. The graphics were bright & crisp, the scenery was very pretty & magical, and the music was pleasant, if repetitive. Mini-games were cleverly done, though there was an excess of "Simon" type tasks. It lasted about 3 hours for me, not counting the 3 times it crashed on Windows Vista. (I swear if I ever get a new laptop, I'm using this old one for an ashtray). It finally allowed me to play all the way through, but I think that problem was due to my OS. It seemed rather short, but I still think it was worth the $$, and think you'll enjoy it.

- by gobaba
Related Games
If you like Awakening: The Dreamless Castle game, you may also like...