Age of Emerald
Use your skills to build the city of your dreams in Age of Emerald! in addicting Age of Emerald Game
System Requirements
Windows 98/ME/2000/XP/Vista
Memory: 128 MB
DirectX: 7.0 or later
CPU: P 1.0GHz
Video: Direct3D compatable video card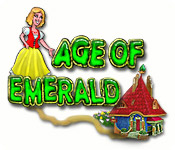 Age of Emerald Game Description
Use your skills to build the most splendid city in the Kingdom, and maybe even the entire world! Link together the different resources you need to build up your gold, food and magic quotas and watch your city come to life! With 30 buildings to construct and more than 15 kingdom inhabitants to unlock, your city will be booming in no time! So take a walk through the beautiful woodlands and enjoy Age of Emerald today!
Age of Emerald full version features include:
More Than 200 Magical Levels!
30 Buildings To Construct!
5 Original Bonuses And 30 Resources To Collect!
Over 15 Kingdom Inhabitants!
Age of Emerald Game Customer Reviews
I really love this game. Its so colorful and a lot of fun. Very addictive! I can't seem to stop playing it. My housework is suffering and my kids don't recognize me anymore, but what the hey! I definately recommend it. Have fun!

- by OozyDoozey
I really like this game and enjoyed that it was 400+ levels. But after I built the last house I thought the game would end, you know fireworks, etc. But it didn't. It just kept playing levels with no break, no going back to the village. Did I miss something or is this how ends? But I enjoyed the game.

- by waplace
Looking for a game you can just pick up and put down??.. then this it... a game that will have saying.. "just one more go". I found, yes it can be brain deadening.. but it so simple to pass the time and for you to take a breather when your other game has got you in knots. great for kids and all ages to play..

- by crystalseer
Related Games
If you like Age of Emerald game, you may also like...