Aquaball
It's crustacean-crushing action, under the deep blue sea! It's Aquaball! in addicting Aquaball Game
System Requirements
OS: Windows 2000/XP/VISTA
Memory: 64 MB
CPU: P700;DirectX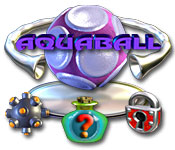 Aquaball Game Description
It's crustacean-crushing action, under the sea! From brilliantly animated seashells, starfish and other marine life to anchors, treasure chests and explosive mines, Aquaball is brimming with wet and wild breakout fun! Unlock five aquatic mini-games as you plunge through 150 spectacular levels! Use the 23 unique bonuses to wreak havoc, including the devastating Aqua-Gun, which fires an expanding ring of water-bullets. So, take a deep breath and begin riding the wave to watery thrills with Aquaball!
Aquaball full version features include:
Wet And Wild Brick-Busting!
150 Levels Of Watery Fun!
5 Mini-Games!
23 Aquatic Bonuses!
Aquaball Game Customer Reviews
There is one diference between Aquaball and others breakout games, and it's the curved walls that makes to the ball go towards unpredictable directions. Perhaps so it is not amused as Ricochet or Bricks of Egypt, but it is worth the trouble to play it. I have finished all the levels and was very funny.

- by Chimal
Nice game for all break-bricks lovers of yesterday and today, the curved walls and the sea theme make Aquaball unique. I am not the Pinball Wizard but now I'm discovering this kind of games and... I LIKE THEM!

- by Tzotzololoy
Aquaball is a fun and exciting game to play. It's got over 150 levels and some mini games that you get to unlock and some great bonuses. There's a fun memory matching challenge in there as well. If you liked Magic Ball and Magic Ball 2 then you are going to love Aquaball!

- by Bob S
Related Games
If you like Aquaball game, you may also like...